By no means a new phenomenon, the issue of labour shortages in the hospitality industry was already identified as a major challenge as early as 2019 by Skift - the US tourism industry news site.
Exacerbated by the pandemic, with 62 million jobs lost worldwide by early 2020, the industry is struggling to get back on track.
📊 At present, in France, figures from Pôle Emploi (the French employment service) indicate 360,610 vacancies in the hospitality industry – 100,000 on the hotel side alone – (permanent contracts, fixed-term contracts, etc.), more than half of which are considered difficult to fill. "It is especially the catering professions that are in great difficulty today, primarily in the dining room and in the kitchen. The hotel industry is also under pressure, mainly on the housekeeping side: chambermaids, housekeepers and assistant housekeepers." states Hervé Becam, vice-president of the Union des Métiers et des Industries de l'Hôtellerie (UMIH - French Hotel Trade and Industry Association).

Although the industry's employers and unions have agreed to raise the pay scale by 16% - effective from April 1st 2022 - this is no longer enough.

Creativity will be required in order to become attractive again, as these positions carry a number of disadvantages other than low salaries, such as:
Irregular organisation and working hours that are difficult to balance with one's personal life.
Job instability
Lack of appreciation by management
High pressure.
10% of operational staff, but also managers, appear to have simply left the industry according to the sources for a Lepoint.fr article dating from the end of May 2022.
The problem is above all structural, with an industry that started its transformation too slowly compared to the speed of change in mentalities and employee expectations. Patrice Mounier, from Umih 84,mentions the need to accommodate candidates who want to "work differently".

During this period, consumer expectations have also shifted (📖 >> See our white paper on traveller trends in 2022).

Having not been able to travel for many months, they were not going to miss out on the summer period and are back with different demands than previously. Given the context, hoteliers are struggling to respond.

"Each French establishment has to contend with 15 to 30% fewer staff; a major problem for many hotels, forcing them to turn business away or scale back the services they provide," Sébastien Bazin, CEO of the Accor group, pointed out in an article in Les Échos.
Labour shortage
+
increased demand for quantity and quality
=
impossible equation?
In this article we will look at structural and technological solutions to keep the business going, in a qualitative way, in the very short term and to become more attractive in the short to medium term.
1. Set your priorities
Which positions are vacant? How can this impact your operation? These are the first questions to ask when looking for pragmatic solutions in the very short term.
First of all, have you opened up your search window by using specialised applications for contacting applicants in the hotel and catering industry? There are quite a number of them, including Extracadabra and Brigad.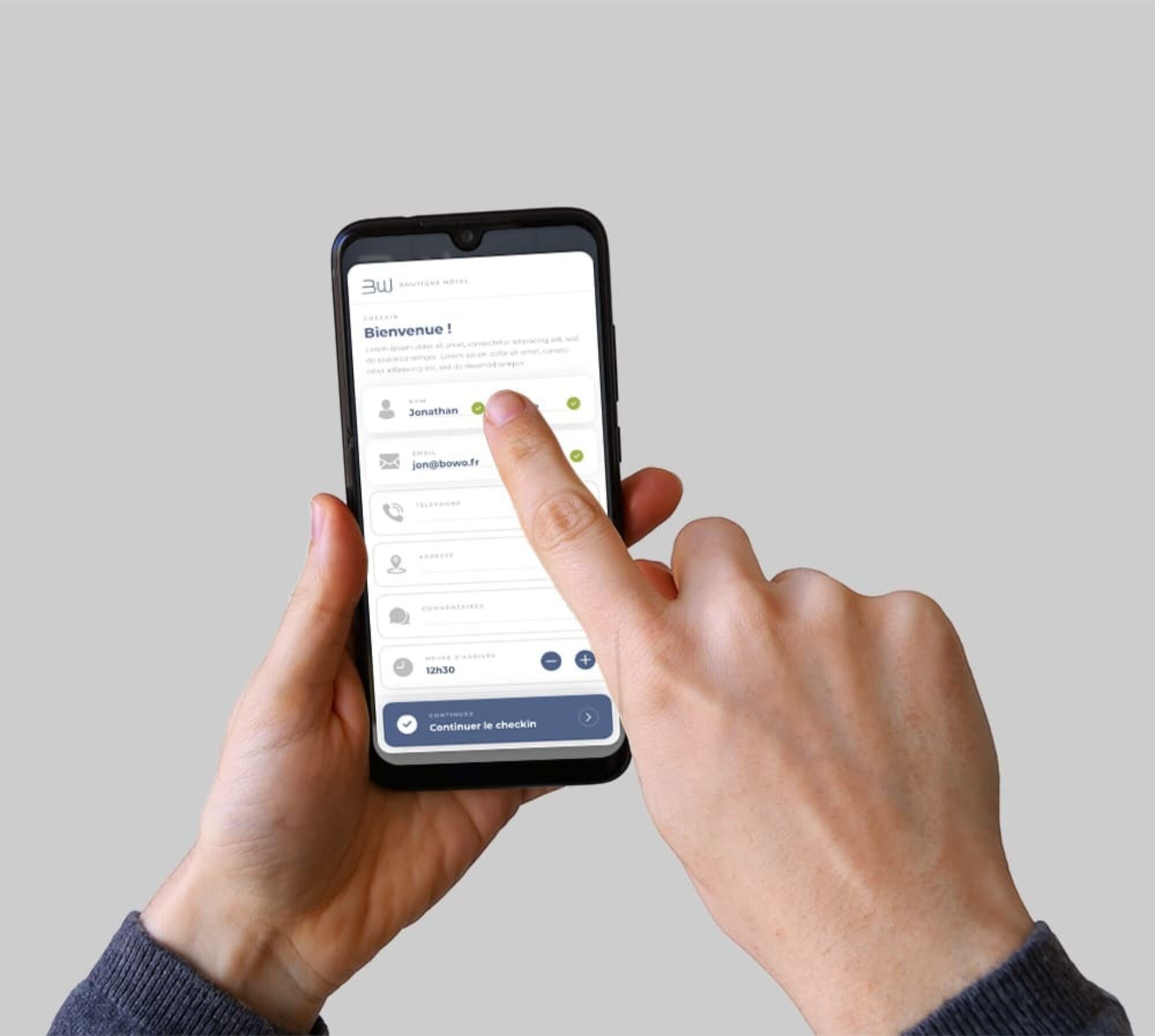 If you are short on receptionists, you can consider setting up autonomous pre-check-in and check-in solutions very quickly via emailings sent by your marketing staff ahead of time, via automatic check-in kiosks in your lobby like lifestyle hotels have, or through a Guest App.
Self check-ins and check-outs will mean your reception staff spend less time on administrative and repetitive tasks and can focus on real interaction with guests. Similarly, by setting up a chatbot on your website and in your webapp, receptionists will spend less time answering recurring, general questions and can focus on more specific queries.

If you are struggling to find housekeepers, you can rely on room automation equipment to take care of switching off lights and heaters/air conditioners, opening and closing electric shutters or even to avoid damages thanks to a smart leak sensor.
Smart rooms are time savers for cleaning and maintenance staff and can provide cost savings. Installing robotic vacuums in public areas for operation during off-peak periods can also be practical and allow staff to focus on the essentials.

Can't find valets? Robots are now used in the luggage storage area to scan luggage before it is taken up to the rooms. Digital room cards avoid the requirement for human assistance to open room doors.

Not enough waiters in the hotel restaurant or bar?
Opt for tablets or mobile apps that let guests browse menus and place their order. Your bartender can then focus on making cocktails and bar service. 🍹


🧑‍🍳What about kitchen help ? Food processors are becoming increasingly popular for preparing sauces and other garnishes.

This is not to say that your hotel will run solely with robots, but they can be a great help in some key positions where there is a lack of (human) resources.
These technologies will not only make operations more efficient and improve the guest experience, but will also make hotel jobs more attractive, helping you bridge the talent gap.


2. Meet your guests' expectations more easily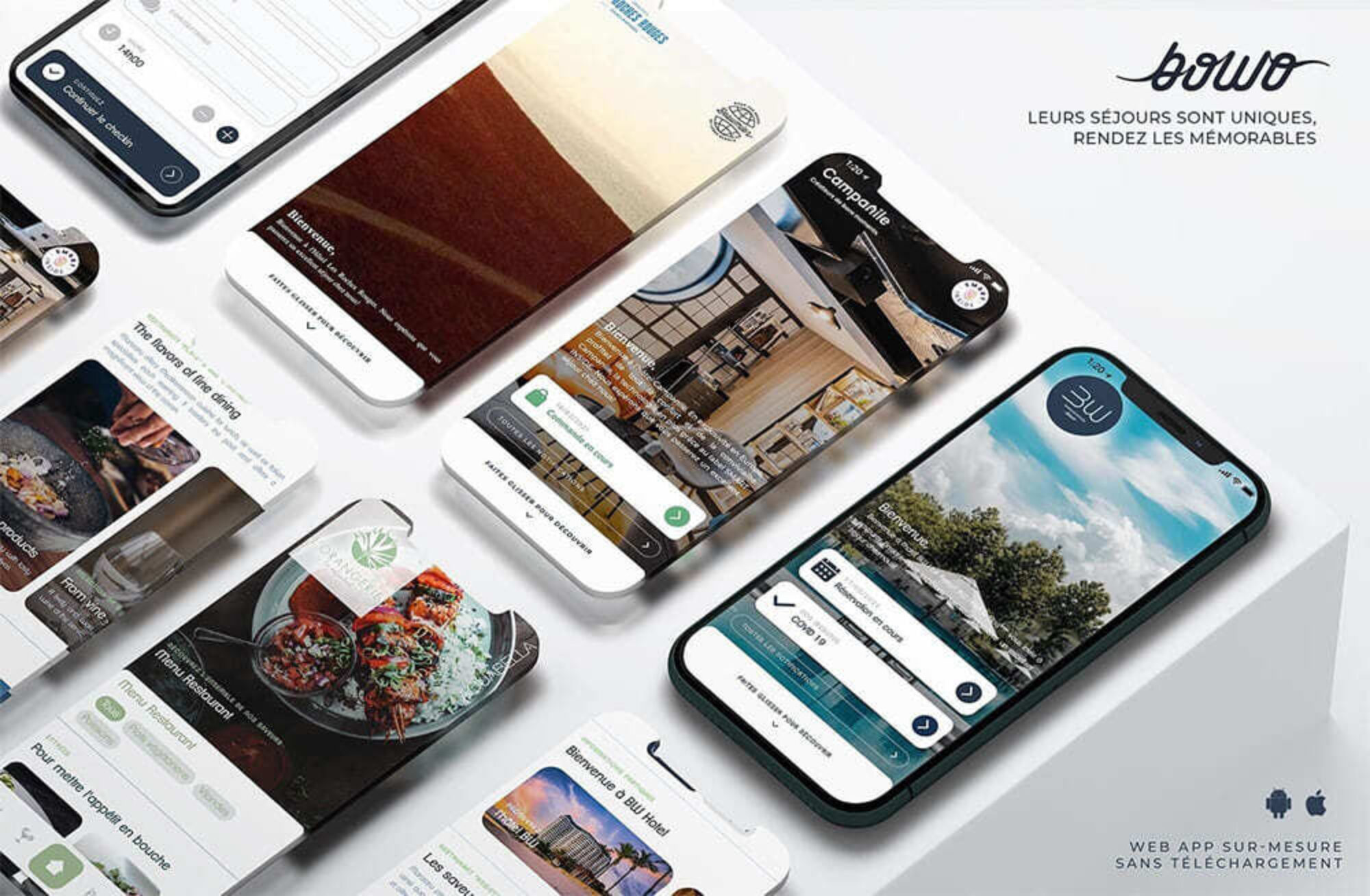 We mentioned the Guest App in the previous paragraph. What is it in concrete terms? You will see that not only is the tool a significant asset in times of labour shortages, it will also help maximise the guest experience at all times.

Provide a white label Guest App for your guests. Using your hotel's corporate identity, it can be accessed on their mobile phone without any downloading (by embedding a url or QR code) and serves both as a Room Directory and as a communication and sales channel, depending on the options chosen.

With the Bowo Guest App, for example, you have a two-way communication hub. As the App is mobile, access to information is instantaneous, helping to improve the guest experience.
In particular, you can:
Send direct messages or notifications to your guests
Configure pop-ups to give updates on the current situation during the booking process and prior to arrival.
Highlight services that may be limited or unavailable
Encourage early booking of restaurant tables or spa treatments to avoid disappointment
This ensures that guests know what to expect, get everything they hoped for, and leave satisfied.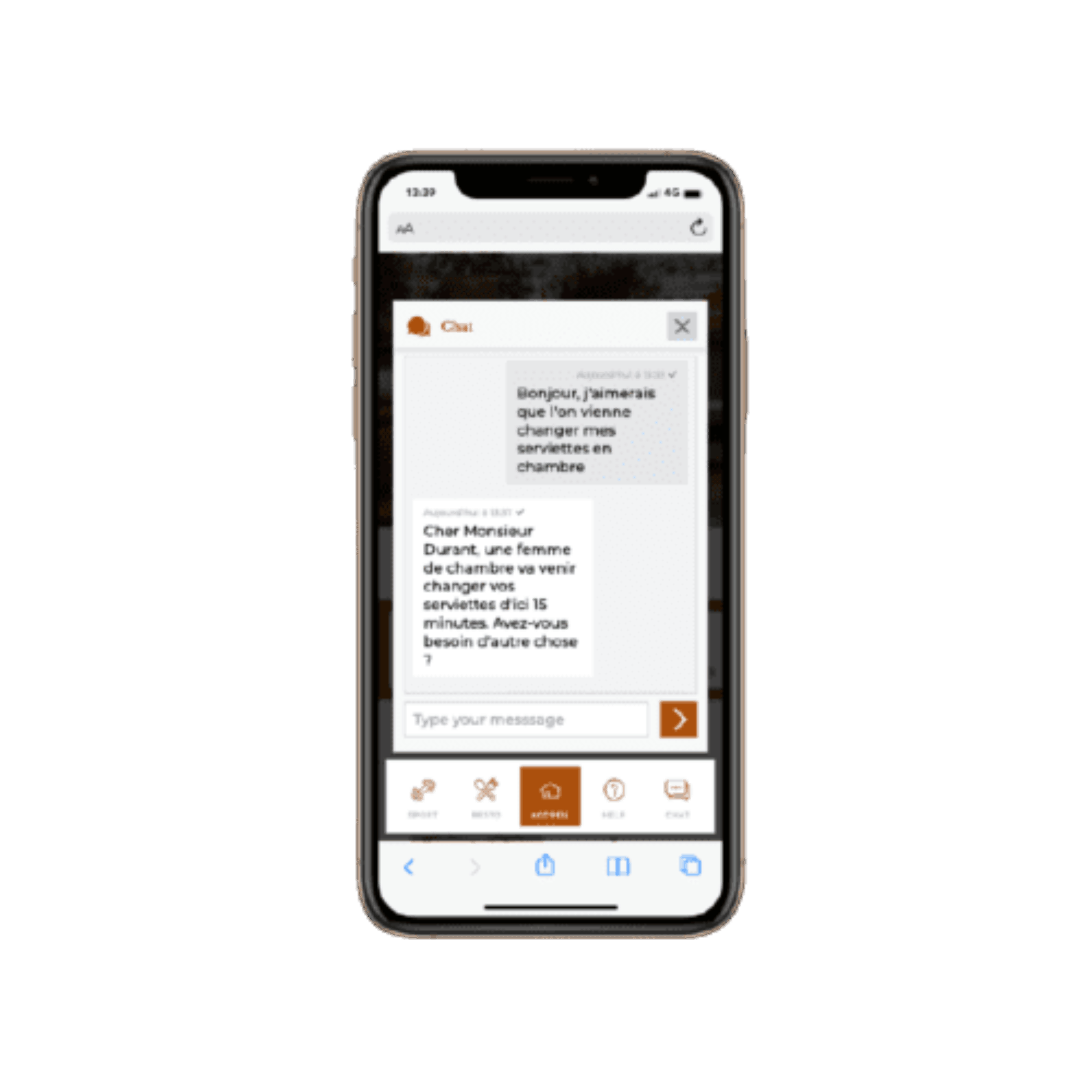 Sending automated messages before arrival also allows your guests to personalise their stay with additional services or paid upgrades. Your front desk staff will save time and you will earn additional revenue.
Thanks to these messages, your guests will be able to book their first activities when they arrive at your hotel.

Guests can also ask questions that your Chatbot will answer or send requests to the different service departments that will deal with them in order, according to their availability.
It also enables follow-up communication with the guest, just before they leave, to resolve any frustrations, and to collect feedback before it goes public on some review platform.

Room service is facilitated by providing a booking module and an order module. Guests can view the menu, order and pay or add their order to their final bill. Your room service will receive a ticket directly once the order is finalised, with all the details.

Other services than room service will also be facilitated.
The ordering tool also makes it possible to run the restaurant with fewer servers for taking orders, or the store with fewer sales assistants available all day. And why not set up a Click&Collect system?

"Research suggests that mobile apps can save about 7.5 hours per employee per week," revealed Binu Mathews, CEO of IDS Next in an interview with hospitalitynet.org.

Coupled with a CRM, our app gives you access to a back office, which contains all the data and automates activity reports. This makes it easier for managers of the different departments, marketing staff and general management to monitor and optimise operations.

3. Offer service on demand
Some services are considered to be systematic in the hotel industry. What if we had a rethink and offered more on-demand services (free of charge or for a fee like airlines, depending on your positioning)?

A few years ago, many hotels started phasing out the practice of changing towels every day, as it was an environmental aberration, an unwarranted extra cost and a time-consuming task for housekeeping.

It is actually possible to de-systematise the daily room cleaning service. For example, the Hilton Group is in the process of implementing an opt-in model for daily cleaning in its non-luxury US properties.
Perhaps there are other services that you could also offer on demand?

In any case, technology tools are now making it possible to rationalise supply in line with demand. By analysing consumer behaviour and demand for services in the back office, it is possible to make much more accurate forecasts of human resource requirements. This will allow you to adjust your employees' schedules depending on the demand.

It is worth noting that a good guest experience generally goes hand in hand with a good employee experience.
"Working conditions have an impact on staff retention, motivation and loyalty," wrote Veilletourisme.ca in reference to an interview given to the Conseil québécois des ressources humaines en tourisme (CQRHT - Quebec council for HR in tourism) in early 2022 by Stéphanie Fissette, a teacher and human resources advisor specialising in tourism.

4. Invest in existing employees
Before looking for new recruits, make sure your current staff are prepared to stay in your establishment. As we pointed out in the introduction, the 16% wage increase will no longer be sufficient to mitigate the other downsides of these professions.

Other benefits play their part. A contract may include payment in kind such as service vouchers, lunch vouchers, or low-cost staff accommodation – especially for seasonal workers. Some hotels or club/hotels allocate a wing for employee accommodation.
Well-being at work is a pivotal issue these days, for all industries and age groups. What can be done in the hotel industry?
Rethink work patterns so that your employees can organise themselves and better compartmentalise their work and personal lives. Say STOP to mandatory breaks. Some employees find this schedule practical, but generally they consider it to be a major drawback.

Some hotels reorganised, with staff on morning shifts and others on evening shifts. Others, such as 25 Hours in Germany and Switzerland, opted for a 4-day week with longer working days. 4 extra hours are provided for in their monthly contract in case of a requirement to work overtime. In the off season, employees appreciate not using them.
What is also troublesome in these jobs is not having 2 days off back-to-back, or even a weekend... and when your employees have families, it is important for them that you consider their need to spend weekends with their families. Perhaps you could take care to ask them to only work one weekend per month, agreed in advance? Or use extras on weekends? It's up to you to find an organisation that can work, while taking into account the well-being of your employees.
This was the aim of the Accor group in Australia and New Zealand when it launched the "Work Your Way" programme to fill some 1,500 vacancies. A programme that offers more work flexibility with:
Starting as soon as the recruitment is confirmed.
Personalised benefits
Possible job mobility across the group's hotels in the Pacific region.
Encouragement of internal career development.
Breaking down the barriers between jobs for greater versatility.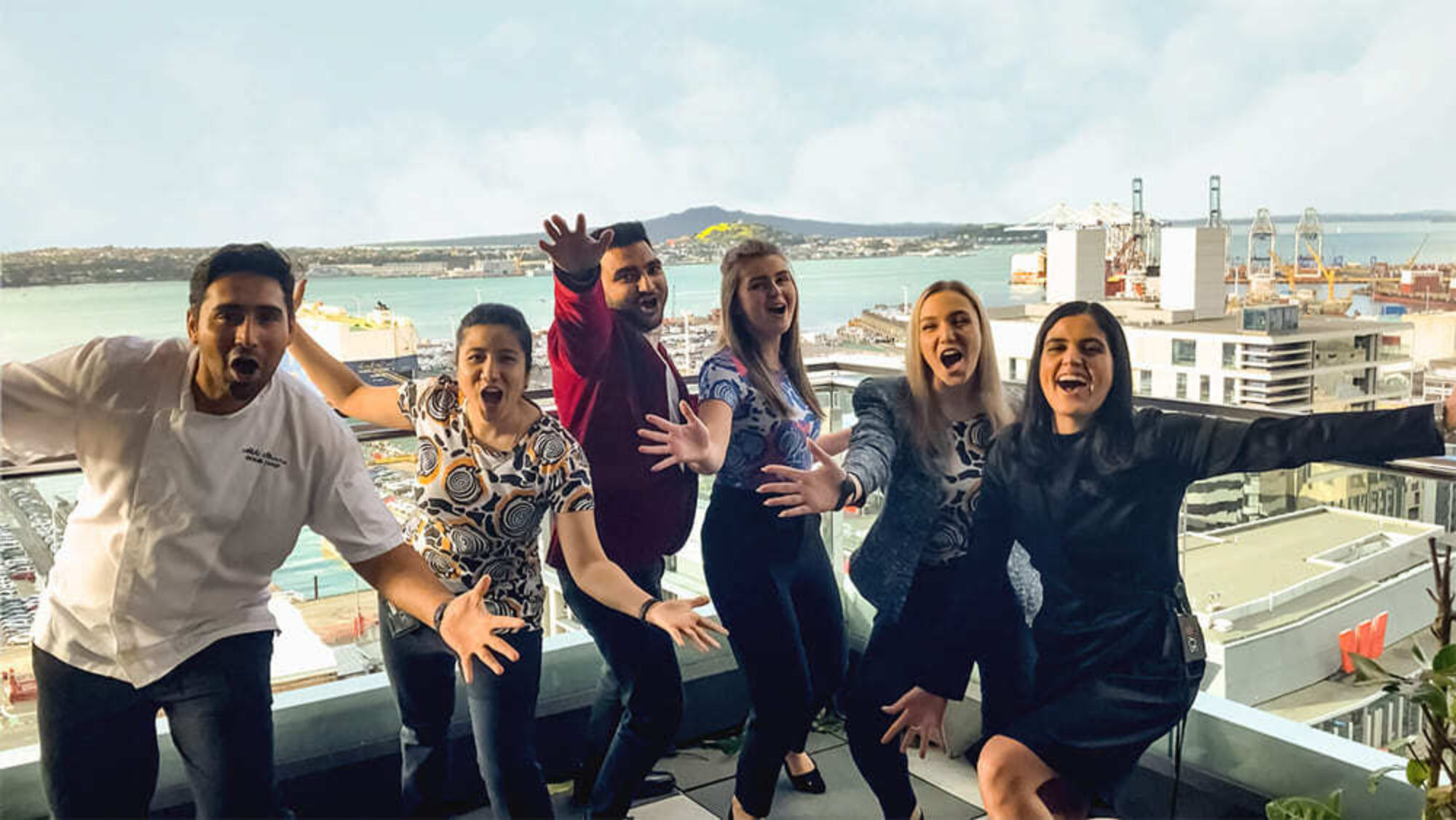 Source : Accor
Industry managers cite lack of acknowledgement and appreciation as one of the main reasons many employees leave.


Why not train employees in other related professions and make them more versatile, like the Accor group? Or get them involved in the company's targets with more transparency on targets and training to empower them to meet objectives, such as:
How to recognise a loyal guest
How to make an additional sale
How to make cocktails and manage the hotel bar
Ask your HR Manager to develop a training plan to allow each employee to vary their assignments and develop in line with their personal goals. And if your managers don't have enough time to devote to training, you can always consider using virtual and augmented reality training as offered by Happy Hotels. This will also have the advantage of providing consistent training for your staff, avoiding loss of information and costing you less than an external trainer.

Of course, this requires a listening approach. Four Seasons establishments have a high level of loyalty among their staff because they are listened to with sincerity and treated with consideration. They have a weekly meeting where operational staff and managers talk to each other in complete transparency: the staff can ask all kinds of questions of the managers and share their ideas. You can inform them about your goals, empower them, perhaps challenge them, and definitely reward them.
"There is a real desire to be able to contribute to the company, to provide ideas and to be listened to..." says Vincent Sitz, restaurateur and president of the employment training commission of the French national Group of Independent Hotel-Restaurants.
Take the example of Alain Sabatier of the hotel-restaurant Les 3 Lieux, at Les Ponts de Cé, near Angers, who involves his 13 employees in the economic aspects of his establishment.

"We have a young team. We want them to understand what turnover represents, what costs are.
For everyone to get their salary and to be able to pay our costs, money has to come in, and we set measures up together to that end. It is of course more difficult to sell a €100 bottle of wine than a €15 bottle, but it is more profitable and more rewarding.
Our cash registers are also computers, where employees have access to the figures for our different activities – restaurant, bistro and hotel: they look at them at the end of each week and month. We examine together why we did not perform so well over a given period, for example", says the manager.

5. Be attractive to new talent
At the end of the day, you still have to recruit.
By using a platform like the one mentioned above, which selects candidates using artificial intelligence, you are likely to save time and be more accurate in your search for skills by removing any human bias.

However, as the business manager or manager you are, you will have noticed that the balance of power in the labour market has completely shifted. So what will make the applicant choose your establishment over another?
There are all the benefits that you offer, as mentioned previously. There is no shortage of avenues to revive the appeal of the industry among new recruits and in particular the use of digital (AI, automation, robotisation, service provision via apps...) to systematise the most time-consuming and least fulfilling tasks.

There are also the company's values. Today's generations are looking for meaningful work. Have you made any CSR commitments?
Corporate social and environmental responsibility includes a whole section on quality of life at work. For example, the 5* Stanglwist hotel in Austria gives 3 paid days per year to its employees to carry out charity work.
Make this known in your company literature and job advertisements.

You could also ask your communication team to write your culture code / manifesto. The brand manifesto is a document that sets out your company's values, its purpose, and its short-, medium- and long-term action objectives, as well as its future commitments. A real communication tool aimed at consumers, it can be written in such a way as to convince and involve your employees.

Or like the people at Midi et Demi who want to attract candidates as well as consumers, by fostering the notion of pleasure: "please oneself and please the customers." This communication is displayed on their website on a dedicated Societal Approach page , on their social networks and in their job offers.

Conclusion
We hope that all these ideas will inspire you to optimise your business and meet demand in terms of both volume and quality. The upturn is under way, it is an exciting time and a great opportunity to give our industry a boost.

We wish you a great season and will finish off with a few words from Kathryn Murphy, owner of The Murphy Gallery & Hotel Dublin :

"To get the most out of technology, you need to completely rethink your guests' journey and your hotel's operations. (…) Focus on ways to improve the experience of your guests and make things easier for your staff, and the bottom line will take care of itself."