The 2022 world hotel chain rankings have been published. Despite the pandemic, the 2022 global hotel chain rankings have changed very little from the previous year. In terms of room capacity, 70% of hotel groups are growing.
This growth is mainly observed in the Chinese hotel groups (+9.9% for Jin Jiang, +15.8% for Huazhu and +7.1% for BTH). The Western groups are showing slightly weaker growth.
The overall trend is explained in particular by the transactional strategies that hotel groups put in place to counter the effects of the health crisis.
There have been a number of sales, purchases, repositionings, mergers and joint ventures in the hotel sector over the last two years.[1]
Before we go into the 2022 World Hotel Group Rankings in detail, here is an overview: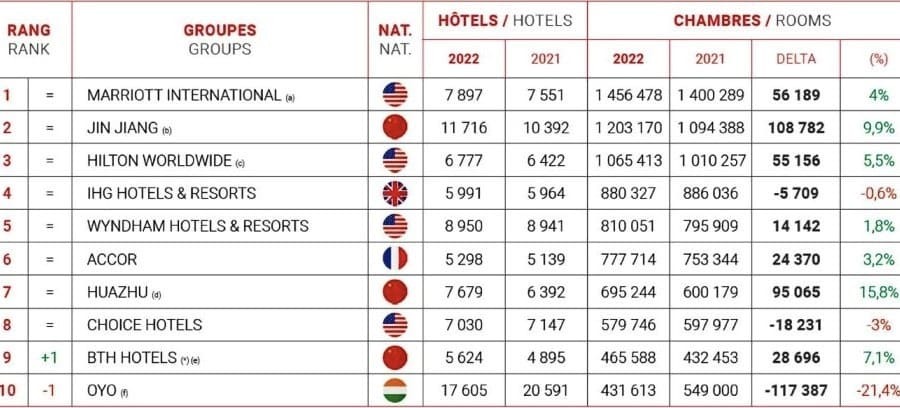 Source: MKG Destination
World hotel group rankings 2022
1. Marriott International
Heading the list is Marriott International.
With 30 brands, 7,897 hotels and 1,456,478 rooms in 131 countries, it is the world's largest hotel chain in 2022. The American company recorded a growth rate of 4% over 2021.
The top hotel chain's current strategy aims to move into Vietnam via its subsidiaries Ritz-Carlton Residences, Marriott Hotels, Westin, Courtyard by Marriott as well as Sheraton Hotels & Resorts. In so doing, the group plans to add 9,000 rooms to its portfolio within four years.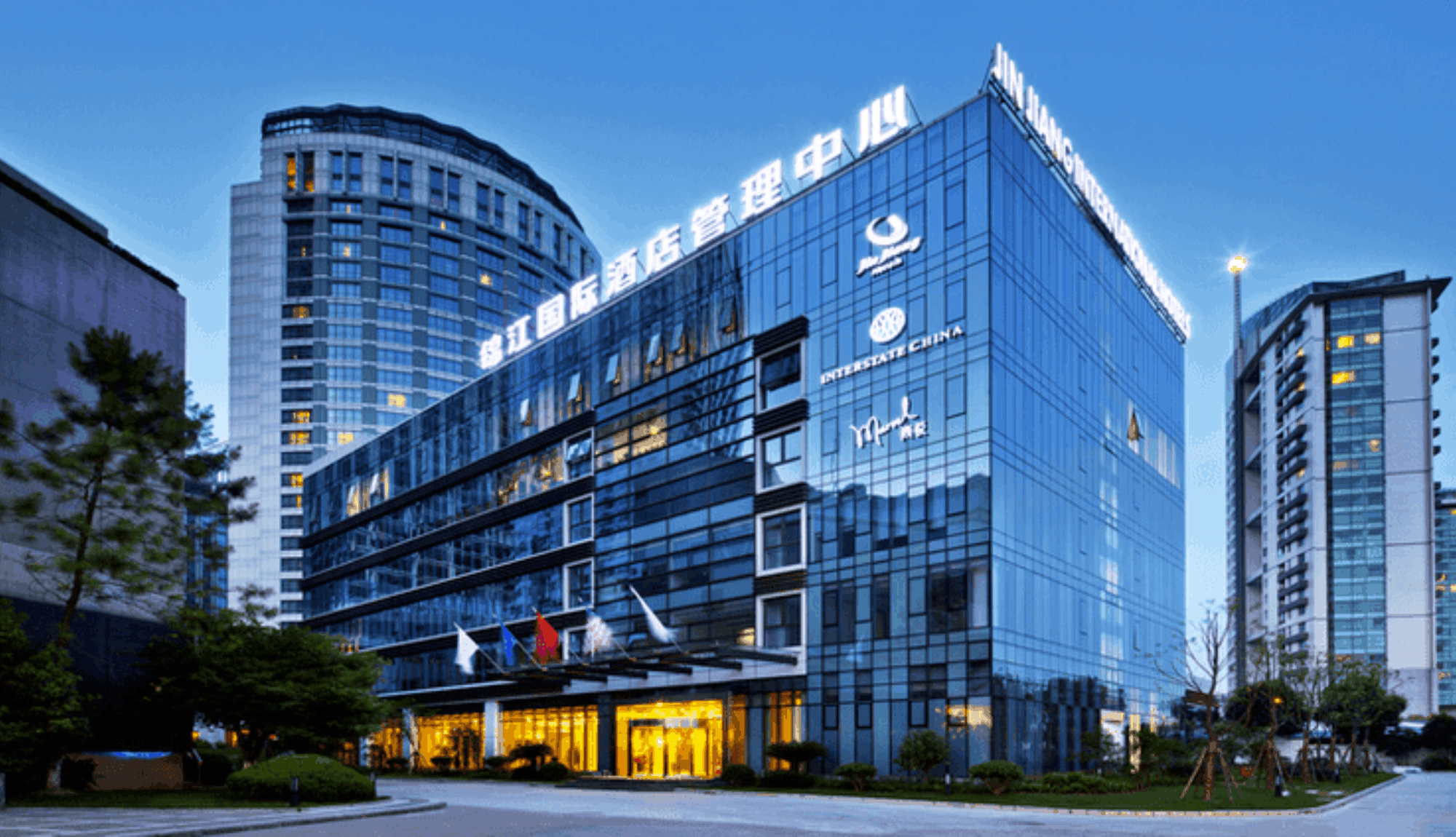 2. Jin Jiang
Jin Jiang continues to close the gap on the number one ranked group, adding over 108,000 rooms in one year - almost as many as Marriott and Hilton combined.
The Chinese hotel chain notched up growth of 9.9%.
This is due in particular to the number of hotels it opened in Asia and the acquisition of two long-stay brands: Tulip Residence (Louvre Hotels Group) and Radisson Residence (Radisson Hotel Group).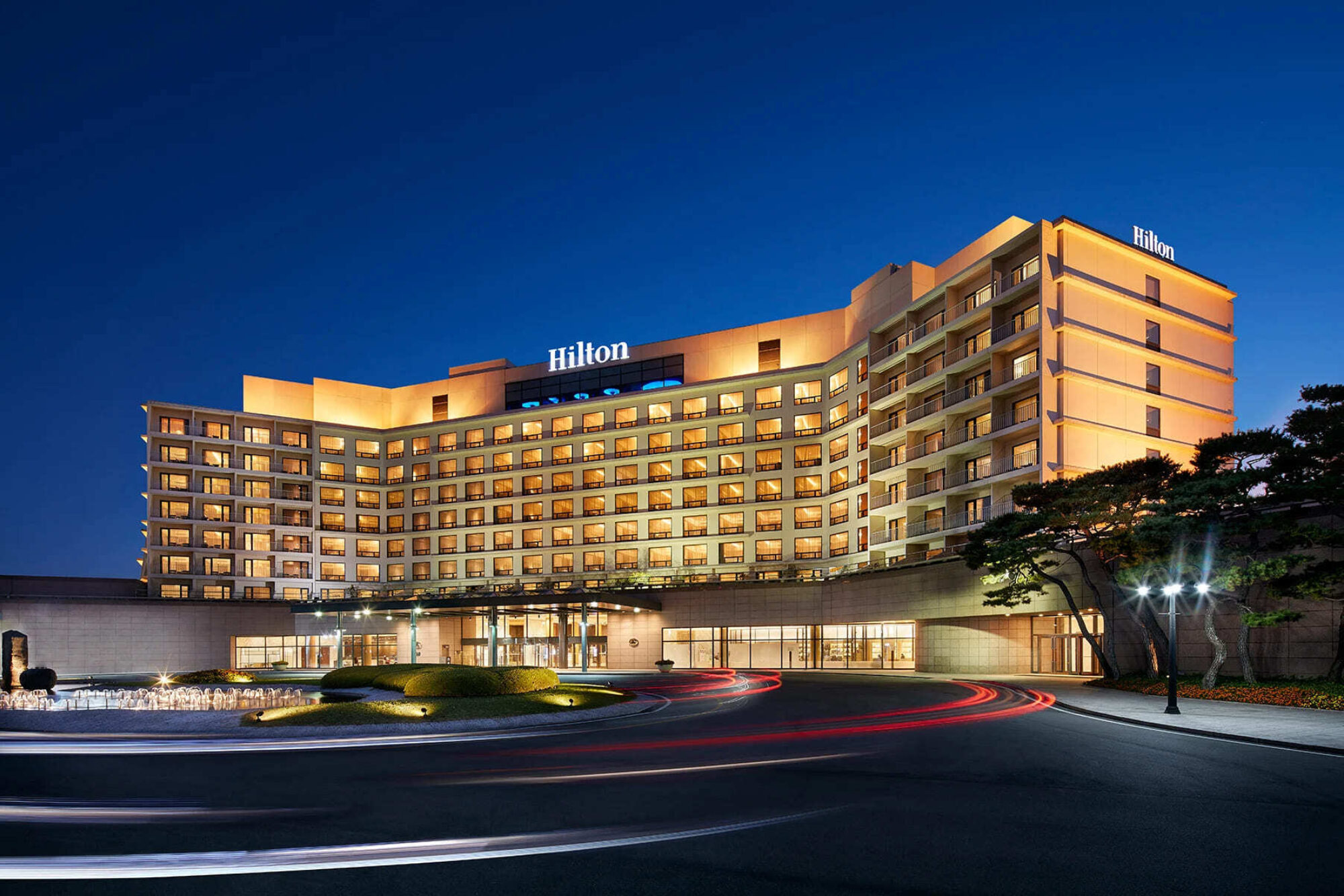 3. Hilton Hotels
Hilton Hotels, ranked third, added more than 350 hotels to its property portfolio between 2021 and 2022.
The group grew by 5.5% to 1,065,413 rooms.
The brand does not intend to stop there, as it is already planning to open 37 new DoubleTree by Hilton hotels in Europe within five years
Worldwide, the group plans to open nearly 130 hotels via its Hampton by Hilton and Hilton Garden Inn franchises.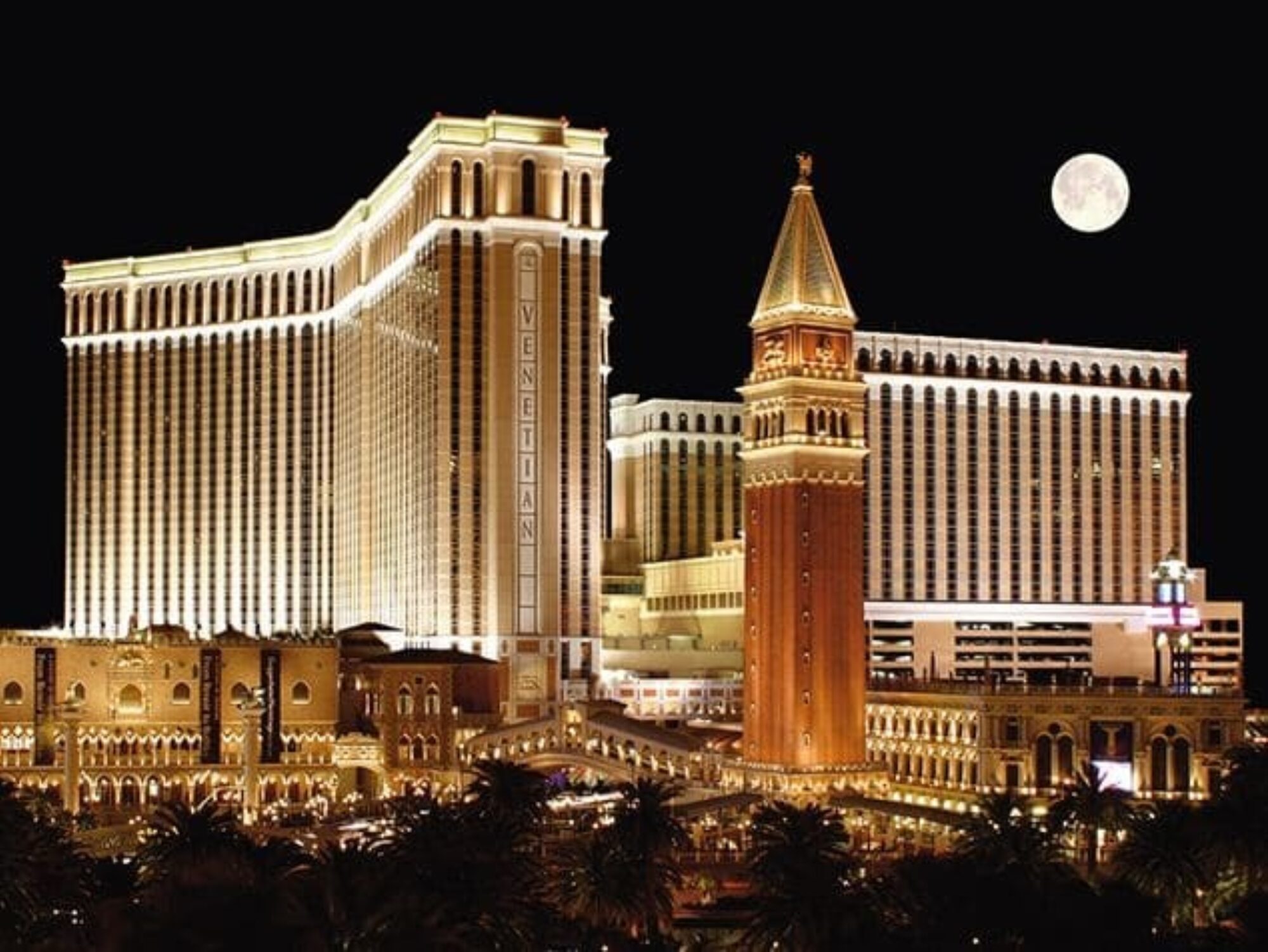 4. InterContinental Hotels Group (IHG)
Despite 0.6% shrinkage, IHG held on to its 4th place ranking.
In 2021, as part of a portfolio review strategy, the group sold off 50,000 rooms, including 34,000 in its Holiday Inn and Crowne Plaza brands in North America. At the same time, IHG expanded its inventory by 291 hotels.
By 2022, IHG plans to open 50 new hotels in its luxury brand range, in 24 countries. The hotel chain is aiming to develop its luxury and lifestyle segment in response to a 4% increase in international tourists in 2021.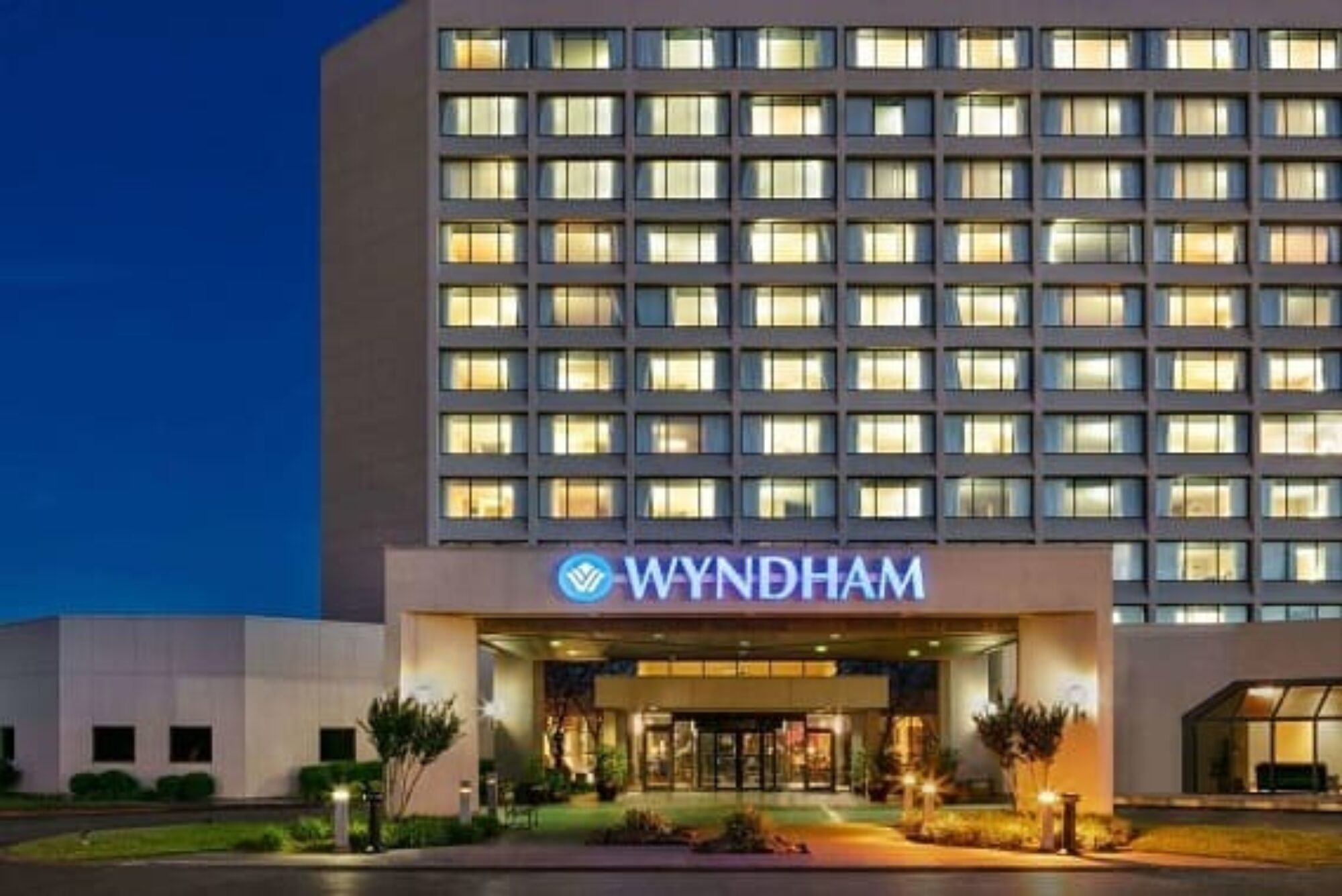 5. Wyndham Hotels & Resorts
With more than 14,000 additional rooms and only 9 new hotels, Wyndham Hotels & Resorts is the fifth largest hotel group in the world, with 1.8% growth.
The group continues to expand, having strengthened its positioning through the all-inclusive Wyndham Altra brand and the luxury Registry Collection Hotels brand.
This includes the Ramada by Wyndham Wellington, which is due to open in Q4 2022.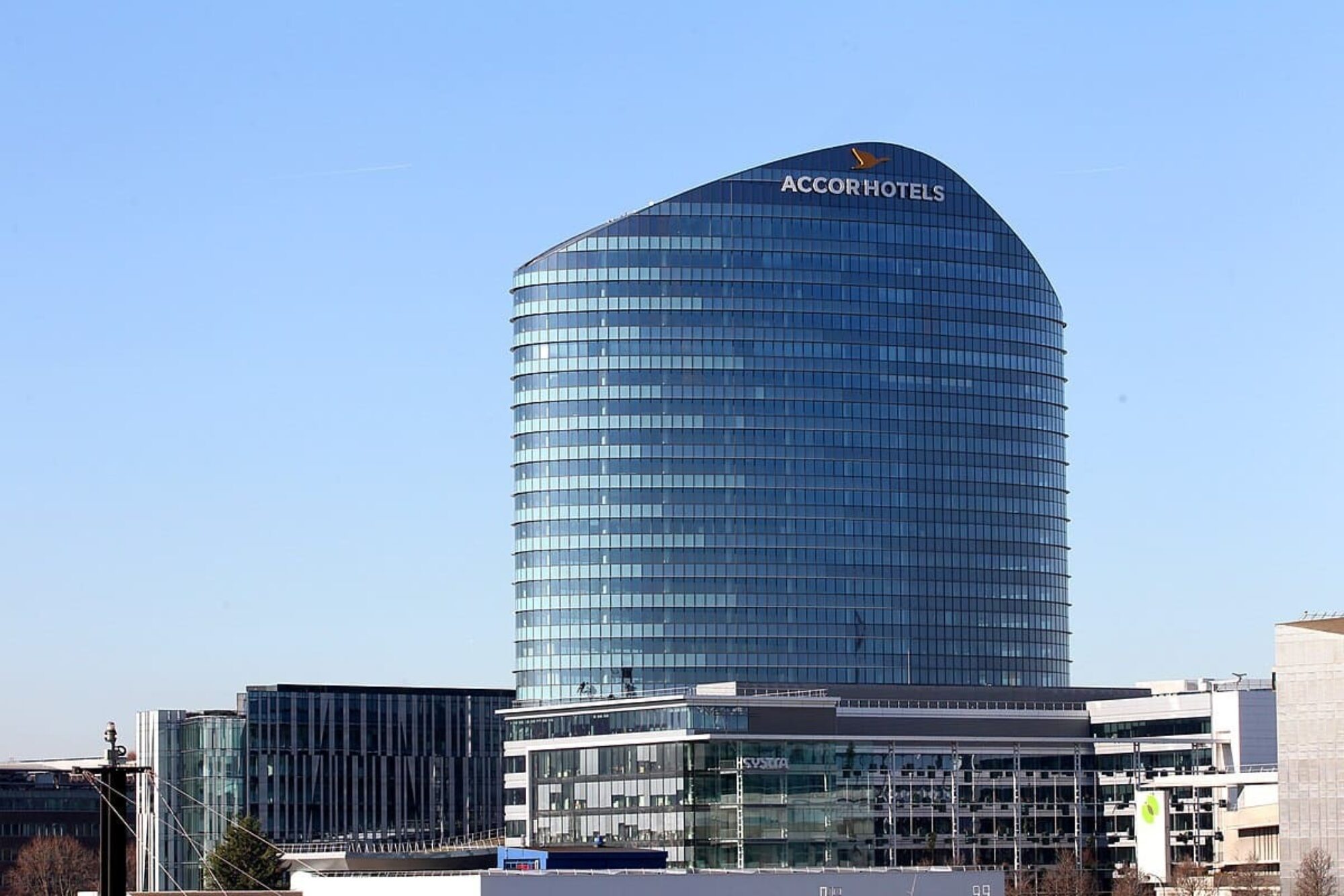 6. Accor Group
Accor Group is the sixth largest hotel chain in the world.
It now has 777,714 rooms (vs. 753,344 in 2021).

The French group grew by 3.2%.
Accor reaffirms its international development strategy. In value terms, the India, Middle East, Africa and Turkey (IMEAT) region is now the group's main growth driver. It should be noted that more than 40% of its development projects worldwide involve the renovation of existing premises, rather than new construction, in keeping with Accor's environmental, social and governance (ESG) commitments.
For 2022, Accor is banking on spectacular destinations.
The brand wants to set up home in the world's most beautiful cities, including London, Doha and Moscow, but also in unexpected destinations such as Pangkalan Bun in Indonesia and Casco Viego in Panama.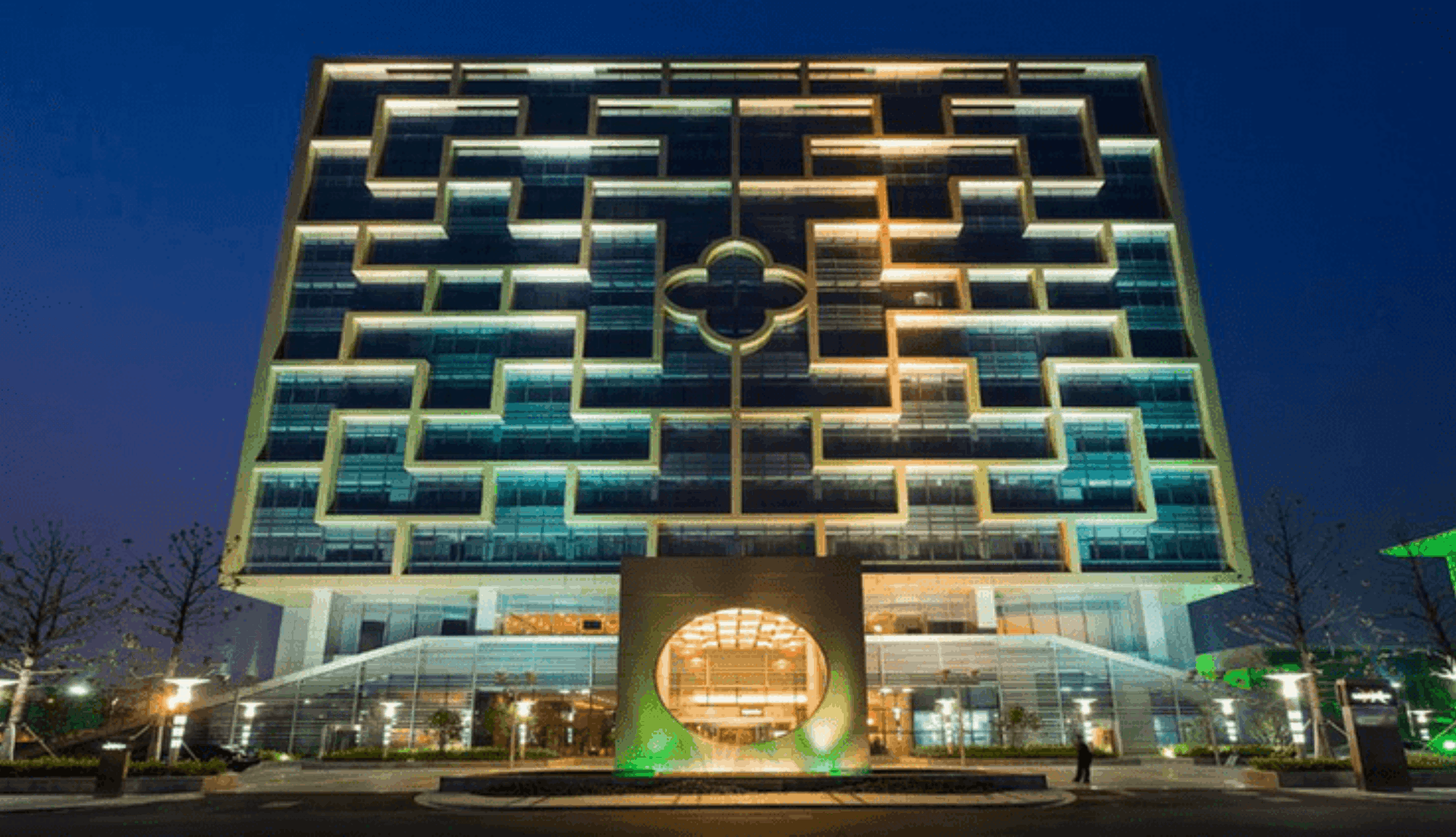 7. Huazhu Hotels Group
The Chinese Huazhu Hotels Group has the highest growth rate in the ranking.
With growth of 15.8%, the chain registered 95,065 new rooms and more than 1,200 new hotels.
Today, the hotel group is aiming to expand its property portfolio with a further 200 hotels in China within 3 years.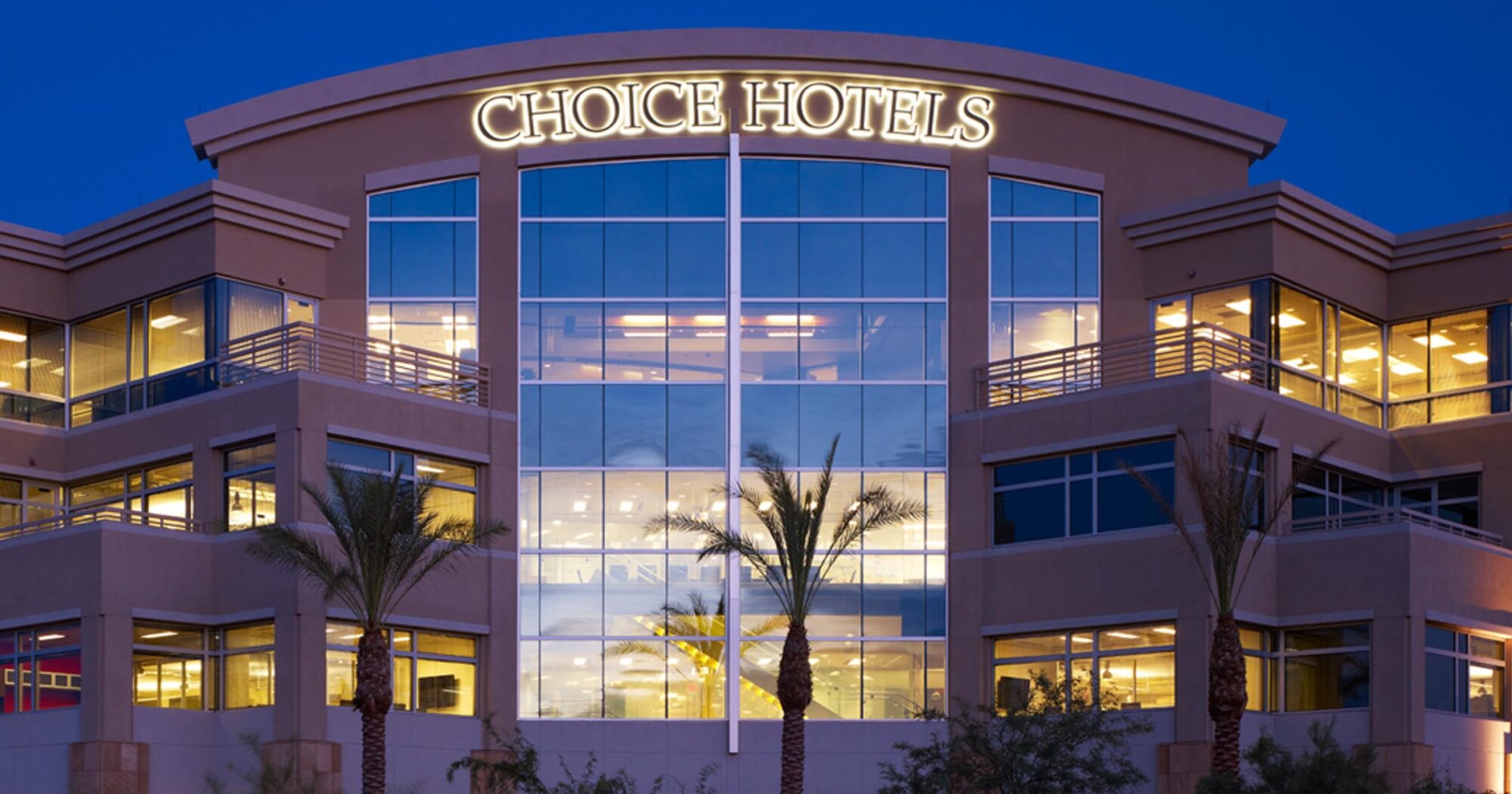 8. Choice Hotels
Choice Hotels retained its 8th place despite a 3% drop. The hotel chain recorded a 1.6% decrease in the number of hotels and a loss of 18,231 rooms, mainly in North America but also in some European countries such as France.
It is however worth noting that the group's Cambria Hotels brand achieved record-breaking RevPar share gains over local competition. In 2022, the company plans to open over 10 new hotels in France.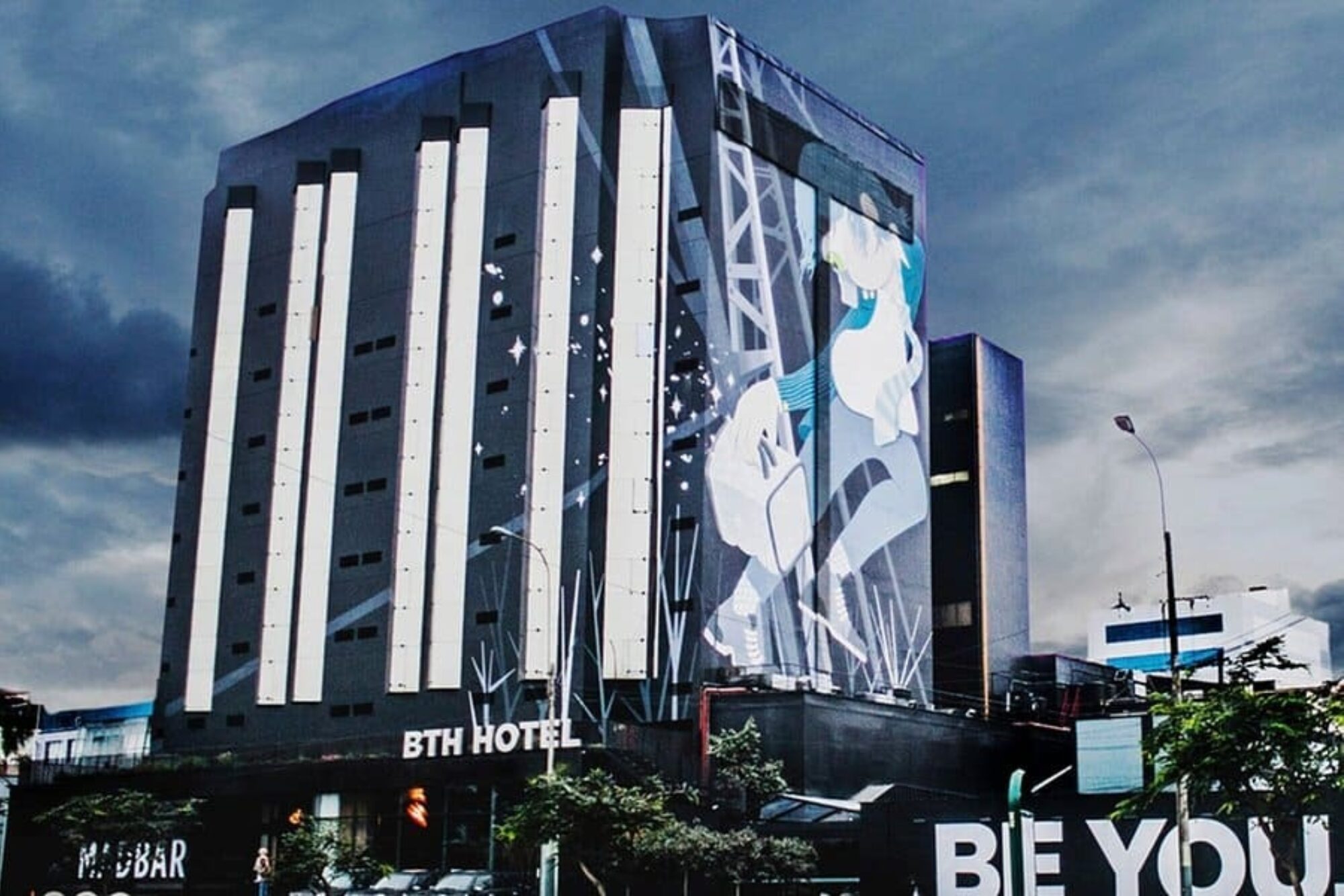 9. BTH Hotels
The third Chinese hotel chain in the rankings, BTH Hotels, grew by 7.1%. With 33,135 new rooms in 729 new hotels, the group moved up one place, ahead of OYO Hotels & Homes.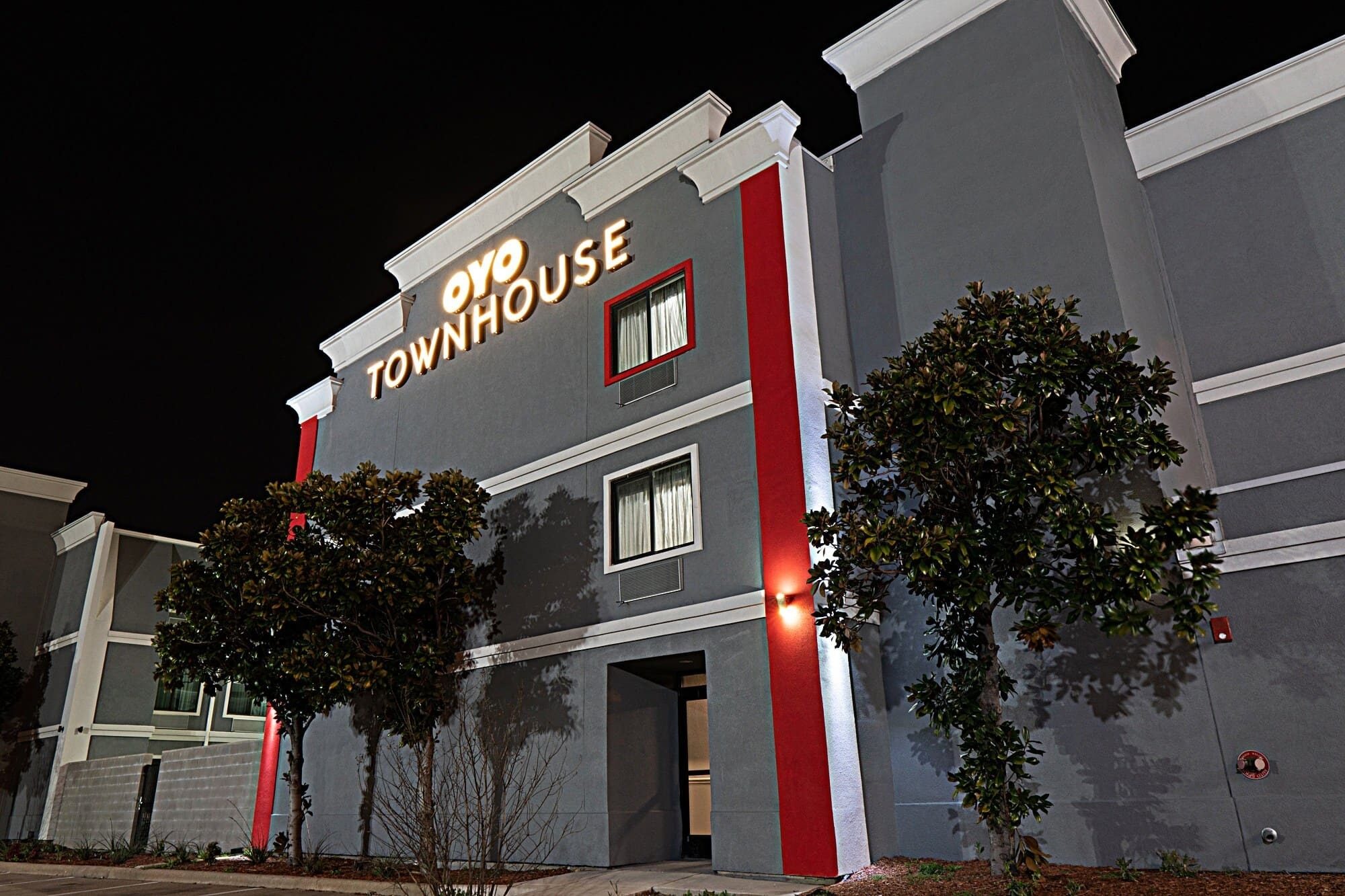 10. OYO Hotels & Homes
The Indian hotel chain experienced a 21.4% decline. It shows a loss of 2,986 hotels and 117,387 rooms compared to 2021.
With the acquisition of Direct Booker (a European company that owns more than 3,200 holiday homes) in early 2022, the company is taking back the reins of its European portfolio, which was previously impacted by the health crisis.
The Indian group is keen to acquire "tuck-ins " to boost its growth.
Je télécharge le livre blanc