Up until now, most hotels have been thanking their loyal guests with physical gifts, discounts on their reservation or free nights for every X nights booked. While these awards still appeal, they are no longer enough to convince travellers to remain loyal to your brand amidst an increasingly broad and creative accommodation offering.

Travellers are changing and their expectations have shifted.

To build loyalty, the major hotel groups have had to revise their value proposals and reinvent their loyalty programmes in recent years, as have the airlines.

We've combed through their programmes' features, to help you give yours a new lease of life.

Here are the 10 best practices we identified in hospitality programmes👇

1. Quality and consistent service in your properties
Customers are presented with a marketing pitch during the browsing and booking phase, and choose a hotel based on a certain standard. They have expectations. Delivering on the brand promise is fundamental.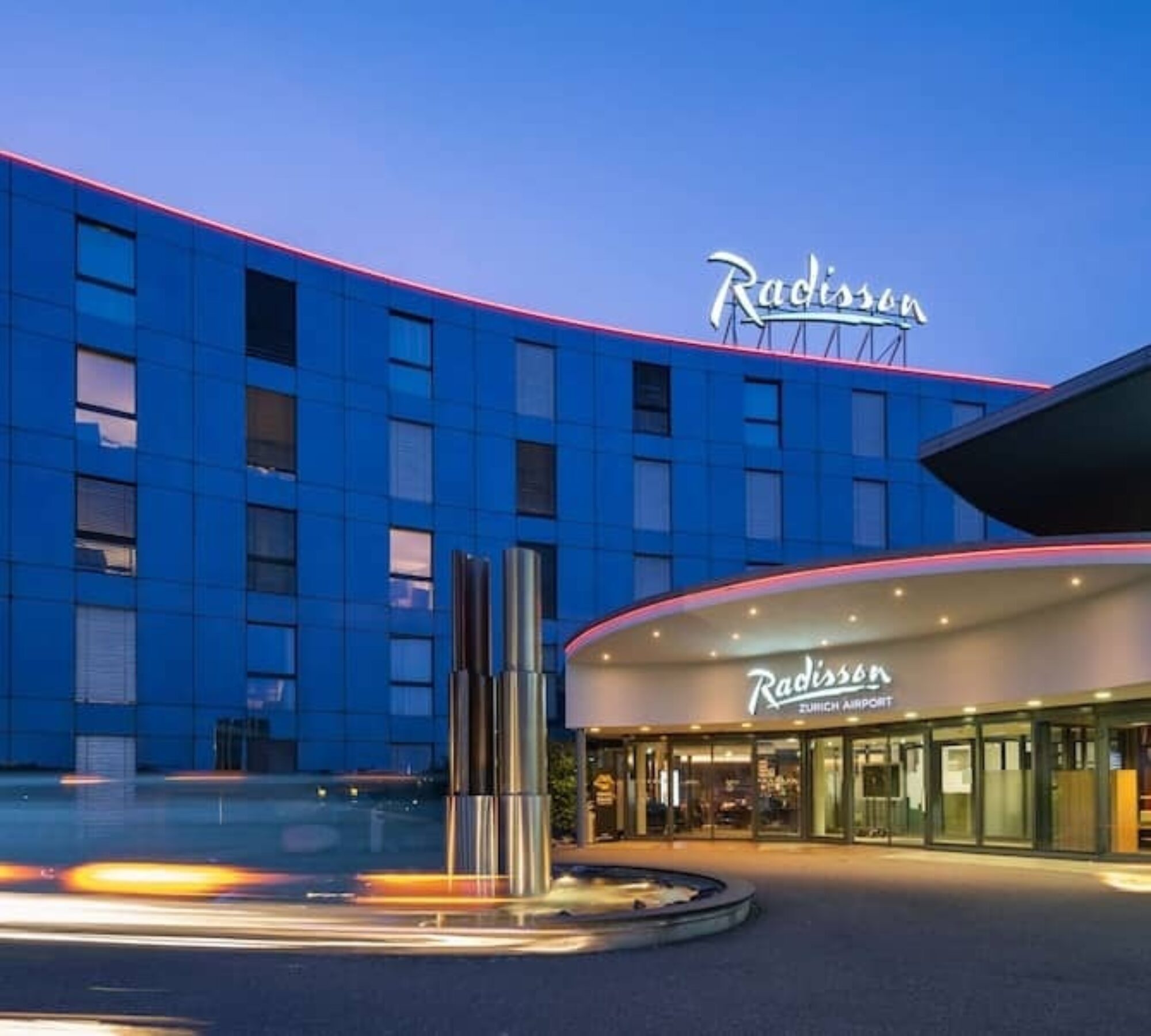 The major difficulty lies in the ability to offer a consistent experience across all the properties in the group. Member guests will have the same expectations of the different hotels that are part of the loyalty programme. This means a clear set of specifications is required, including guidelines to be considered even before each property is built or fitted out, as well as standard operating procedures (SOPs).

But that's not all. To make a meaningful impression on customers to the point of making them loyal, you will need to exceed their expectations.
A study by ReviewPro found a correlation between the ability to exceed customer expectations and the level of loyalty, i.e. the sign-up rate for the loyalty programme but also the repeat rate within the brand's hotels. Consequently, the more expectations are exceeded, the more guests join the programme and the more they come back.

Teresa Comparato, Sales Director and Head of Loyalty for the Radisson Group, talks about "maximising the customer experience" during each stay and throughout the guest journey.

2. Recognition and priority for programme members
Loyal customers want to be recognised as such and enjoy exclusive privileges and benefits.
Radisson Rewards members were surveyed and 97% said it was important to them to be recognised, and for most of them as early as check-in, followed by earning benefits.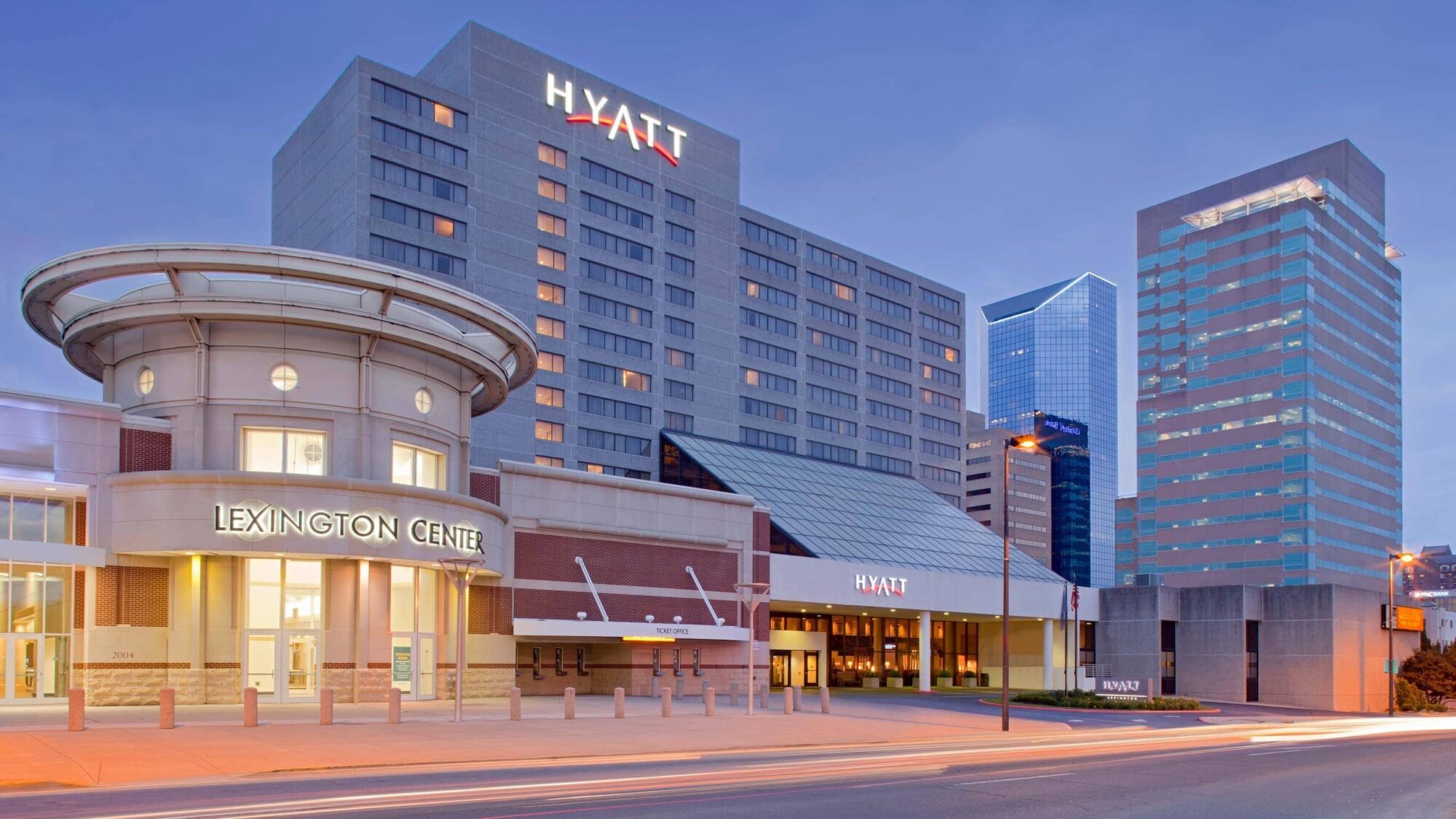 The Hyatt World programme offers an array of services exclusively for its members. This includes a specific reservation phone line as well as a customer service hotline, but also an exclusive check-in area, fast check-in, priority room availability for early arrivals, upgrades to a higher category room subject to availability and late departures on request.
Among other things they also provide access to a Club lounge, business lounges and sports gym within their hotels. Wanting their customers to enjoy a VIP experience from A to Z, they provide two accesses per year to the United Club, United Airlines' airport lounges. Finally, in the knowledge that loyalty does not call for supremacy, a partnership has been set up with MGM Resorts International so that guests who are Hyatt World members are also members of the M life Rewards programme.

3. Ultra-personalised service
Loyalty, according to a definition in the Collins dictionary, is 'the quality of staying firm in your friendship or support for someone or something.' The customer relationship is central to creating that emotion.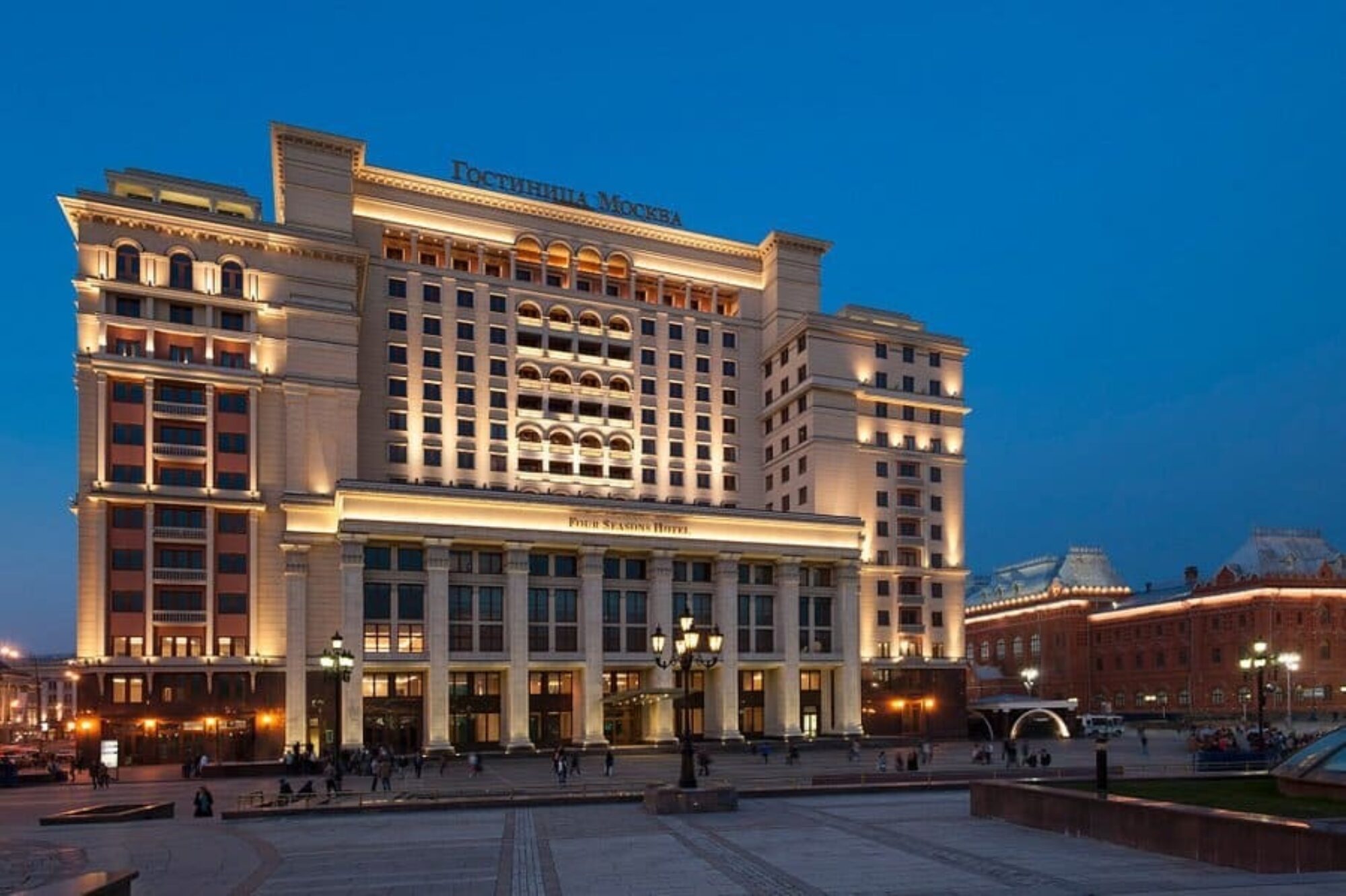 The Four Seasons Hotels and Resorts group has made this its customer policy. There is no loyalty programme but clients travel to their properties 3 to 10 times a year.

Jean-Pierre Soutric, Corporate and Travel Industry Sales Director Europe from 2011 to 2015 shared some valuable practices in an interview with Décisions marketing, the official magazine of the French Marketing Association.
The luxury hotel group believes service excellence and personalisation are key. "Our job is to clearly identify loyal customers (there are some who only travel with us!) and above all, not to treat them like numbers." This requires customer knowledge and database enrichment

Each property has a historian, who is responsible for collecting each guest's information and history and ensuring, along with the managers, that all staff are fully appraised of what will please the guest.
Far from being superficial as one might imagine in some luxurious places and jetsets, the relationship is sincere. « It's just about treating the people you interact with in the same way you would want to be treated yourself. This rule applies to everyone: customers, employees, suppliers, partners. (…) It is this strategic choice that has enabled the group to get to where it is today and, above all, to have a level of service that is undeniably one of the best in the world. »

4. Staff involvement
The loyalty programme is delivered on a daily basis by the operational staff, who are in direct contact with customers. Training employees will enable them to understand the true value of loyal customers, recognise them and deliver the promises and rewards that were devised at headquarters.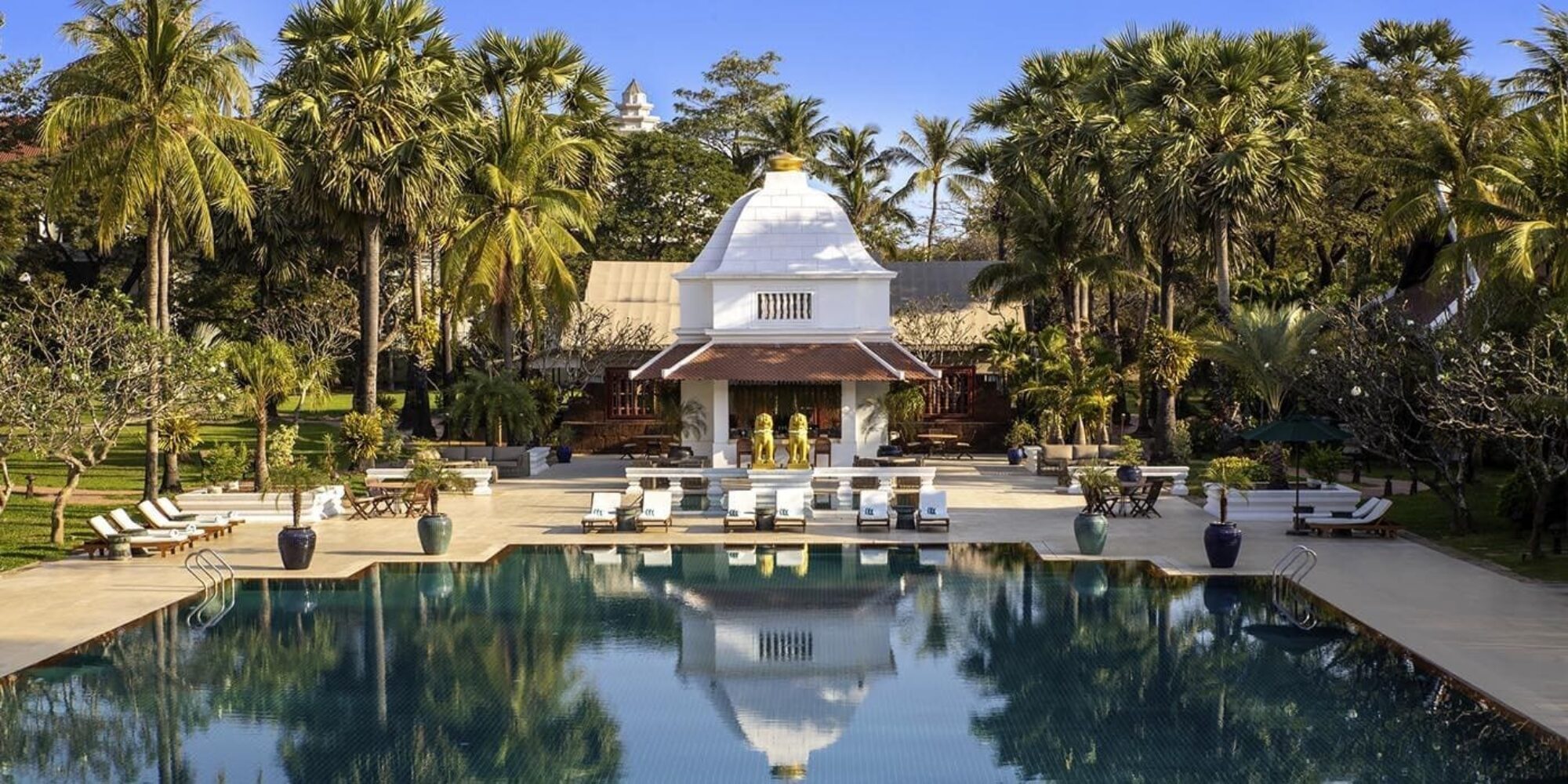 A 'loyalty champion' position has been created for the hotels in the Accor group. In every property, they are there to ensure that the ALL programme is rolled out sensibly and effectively.

In addition, employees are all the more involved because they are given the means to spoil customers who deserve it: through small gifts such as a welcome cocktail or special offers such as an upgrade, a head massage that makes you want to book the spa afterwards, etc.

5. Gamification, or the art of "gamifying" the guest journey
Those programmes that have been revisited in recent years use the gamification strategy to engage customers. They earn points on bookings or for every expense incurred within the group: overnight stay, breakfast, spa, restaurant, bar, minibar, use of the GuestApp and the concierge service, meeting room booking or event organisation.
When "player" customers 'do a good deed' – for example, book directly on the brand's website, they can earn bonus points.
These points are then converted into redeemable currency for the rewards.
This practice is used within the Club Carlson, IHG Rewards Club, ALL et Bonvoy.
6. Enable guests to be in charge of their loyalty
The 6th best practice is exactly that - putting clients in the the loyalty driving seat. Not everyone has the same profile, history, needs or wishes. With access to a rewards catalogue, they can choose what they want, when they want. Some might prefer short-term rewards during their stay, others prefer longer-term rewards, earning more points over time.

More and more programmes allow their members to convert their points to Miles. Others, such as Hyatt Word, depending on member status, allow rewards to be given to family members. Bonvoy allows you to collect points as a family (or with friends).
7. Being there in everyday life = ALL
As the name suggests, the positioning of the ALL programme, which stands for Accor Live Limitless, is to be present lifelong and not just during the hotel stay.
Their slogan is "Live, Work, Play". This translates into a range of services that member customers can enjoy in everyday life. They can spend their points on meals, in their city of residence for example, or on working space... or even enjoy intangible experiences such as leisure activities, sports, culinary experiences or events. Again, they have a choice.

8. Easy access
To be able to join the programme, clients need to understand how it works, what the different statuses are and how they will gain in concrete terms from the benefits and rewards on offer. They generally expect to see details and offers online, on a dedicated site or via a mobile app. They can then, through their customer account, check their status as Bonvoy members, or redeem their points by selecting the offers that interest them on the IHG Rewards Club app.

When you have a Guest App like Bowo's, you streamline communications with customers and allow them access to an online concierge that sells your own services as well as those of partners and other ticket offices.

9. Programme branding at every step of the guest journey
A central question is how to have new members join a loyalty programme.
Concretely, this requires strong branding, in line with the group's own branding and that of its brands. A name that is understandable by all guests, and a consistent visual identity.
It is possible to add a slogan like Marriott's Bonvoy "Rewards Reimagined" or a catchphrase like Radisson Rewards "Get exclusive benefits and great rewards with every stay".
It is also important to communicate about the benefits of joining your programme throughout the guest journey: in pre-arrival emails, at check-in if possible, in signage at the dedicated check-in desk, on local objects, on key cards or swipe cards, on in-room TV screens and in the different eating & drinking areas. "You need to keep it subtle," according to Cécilia Vilches, Marketing Director for Sofitel Mexico.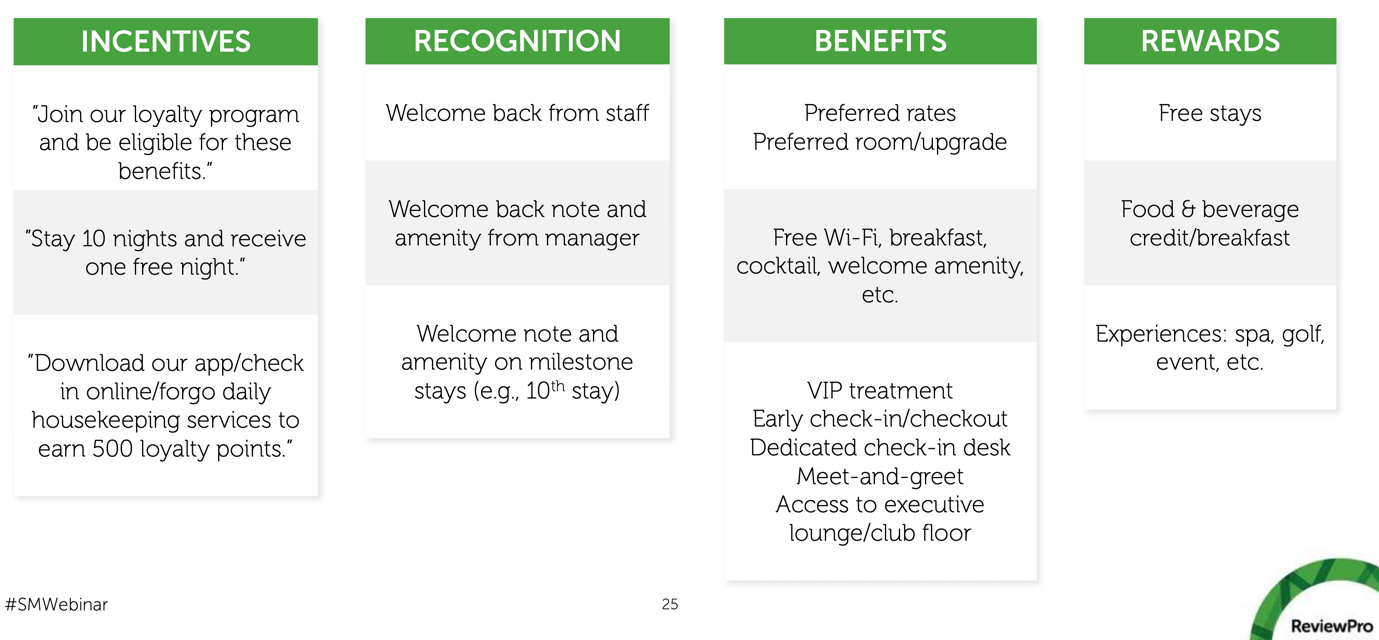 10. Trace and analyse loyal guests' behaviours
How can you tell if the loyalty programme is working? The use of tools such as the PMS, a good CRM and the GuestApp mean that today we can access a lot of data and classify it automatically.
Radisson Rewards staff determine KPIs, set up dashboards, and closely monitor results to measure business activity. Teresa Comparato of Radisson Rewards recommends putting a book value on the monitoring indicators to assess revenue gains compared to costs.

11. BONUS: Create a brand community
A good idea that Southwest Airlines had, is to have turned its loyal customers into a real online community and to share their DNA and values with them.

To make it easier for you, we have also compiled the types of services and exclusive benefits to be found in the programmes of the different chains we looked at.