At a time when guests are becoming increasingly demanding and hotels are confronted with a severe labour shortage, there is an enormous potential for chatbots in the hospitality sector. That's why we are delighted to announce our partnership with HiJiffy, the most advanced conversational AI for the hospitality industry.

HiJiffy is a Guest Communications Hub, powered by AI (artificial intelligence). Thanks to this AI, the chatbot can interpret human language to understand the customers' intent. Customers have access to a veritable virtual assistant, on average capable of answering over 80% of their queries automatically, in 130 languages, 24/7. HiJiffy also centralises all the communication channels into one inbox. HiJiffy helps to increase customer satisfaction, reduce response time to requests for assistance, and improve hotel service.

Bowo's Guest App is a web-based application developed specifically for each hotel, bringing together all the hotel's offerings and services. For the guest, everything is just a click away: check-in, room directory, menu order, activity and SPA reservation, instant messaging, incident reporting, customised city guide, digital press, loyalty programme, etc.
As a communication, upsell, entertainment and loyalty tool, it makes it possible to enhance the guest experience and generate additional revenue in a simple and intelligent way.
By partnering with HiJiffy, Bowo can offer its hotel partners a comprehensive and easy-to-use guest relation platform that takes communication efficiency and operational improvement up a notch.
The benefits of Bowo x HiJiffy integration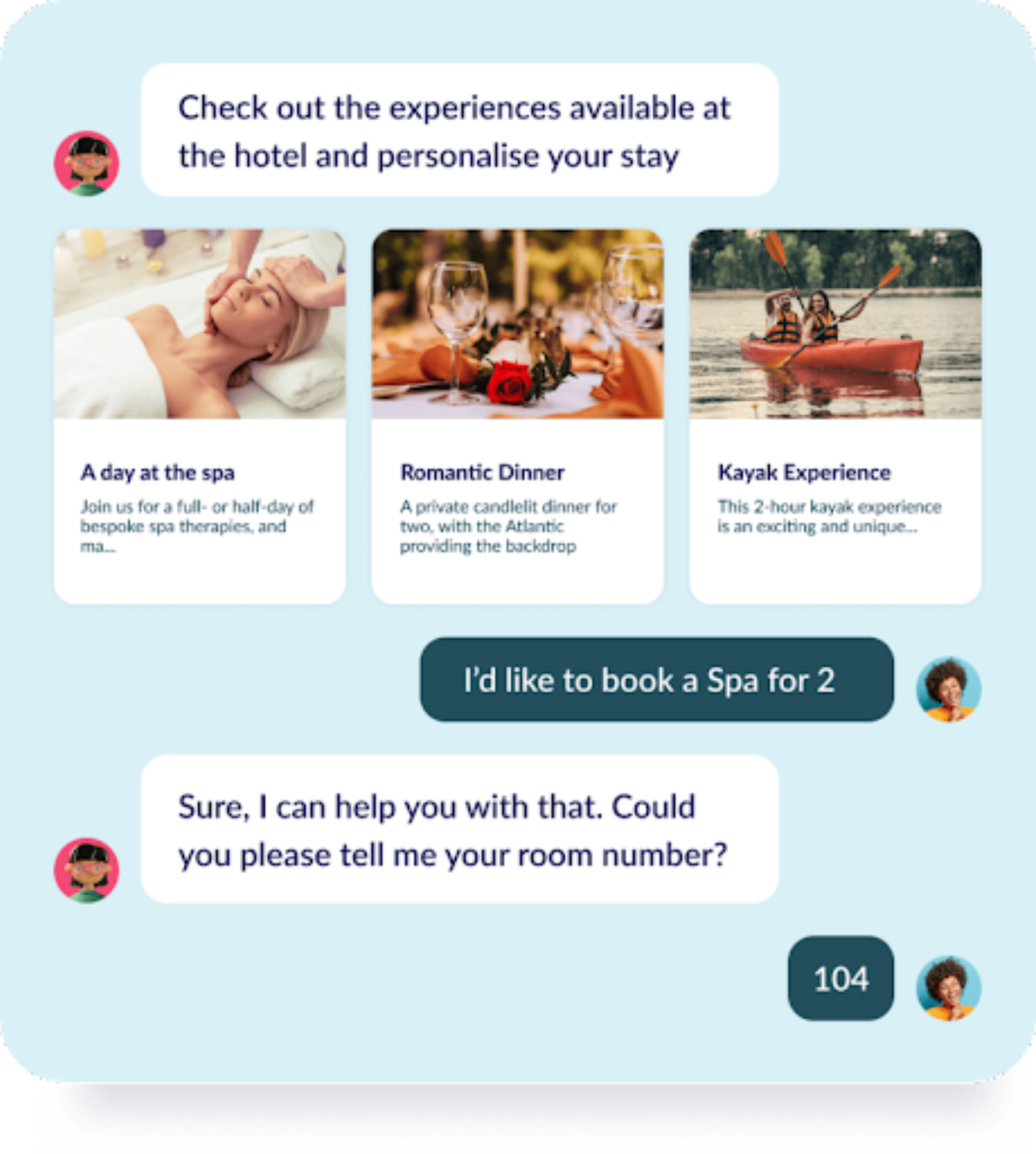 Specifically, with this integration, customers will be able to interact with the HiJiffy widget directly from the Bowo Guest App interface. And the hotelier will have access to the communications hub via the Bowo back office.

The two solutions are very complementary and their integration presents hotels with several advantages:

Time savings for staff: According to IBM, 65% of customer interactions in the hotel industry are about recurring issues, with human intervention providing no real added value. With Bowo and HiJiffy, hotels can free up staff to take care of more complex, value-added tasks.




Increased direct bookings from the app during the stay: whether via order taking through the Bowo Guest App or via the HiJiffy chatbot, the hotel has additional tools to maximise profits throughout the guest journey. Customised upsell scenarios are also possible.
Top quality customer experience: Thanks to detailed segmentation of the hotel's customers (per type of room booked, date of stay, history of stays, language, etc.), the hotel can promote its offers via the Guest App or the chatbot, personalising them for each customer according to their needs.
Centralised guest communications: at a glance, the hotelier has an overview of all communication channels (social networks, messaging applications such as WhatsApp, Messenger, Instagram, WeChat... not to mention emails and SMS). Each member of staff can therefore be appraised of the discussions with the customers, with no loss of information.
Improved customer satisfaction: the hotel can avoid negative reviews by enabling guests to communicate their problems easily and immediately.
Also, connecting Bowo and HiJiffy is possible without any integration costs for the hotels.

Already using HiJiffy and want to know more about Bowo? Ask us for a demo.