Have you had a hotel for some time or have you just acquired one? Whether it is a 2* or 5* hotel, there comes a time when renovation of your establishment becomes necessary if it is to remain appealing and profitable.

Perhaps you feel the need to rethink the overall layout of the hotel to improve the flow of guests, to optimise space and comfort, or to improve your positioning to reach new market segments and stand out from the competition...
It is also possible that the renovation was forced on you as a result of an inspection when you took over. Turn it into an opportunity.

Renovating a hotel obviously requires investment in terms of both time and funding, but it undoubtedly provides a considerable return on investment in the medium to long term. Depending on the work involved, it is possible to move upmarket, to be awarded more stars, to increase your rates and therefore your turnover.


Of course, the specifications will be different depending on your business objectives, but also on the customer experience you want to create.

Bear in mind that there are broadly 3 types of renovations:
Minor: this is a simple 'decor refresh' to bring your hotel up to date.
Complete: you need some real interior design work... to reconfigure the space, which means moving partitions, in addition to the decor.
Major: we are talking here about a comprehensive exterior and interior renovation. There is necessarily some structural work involved and this takes more time but is essential if the structure of your establishment is ageing and needs to be brought up to standard. Of course, the decor will ultimately be part of that.
Whatever the reasons or objectives, refurbishment is not to be taken lightly.

Why and when to renovate? How to go about it, with whom and what budget will be required? Finally, when and how to communicate with your customers?
In this article you will find key insights to help you make the right decisions before starting your renovation project and turning it into a major business success opportunity.

The right reasons for renovating your hotel
First of all, the objective of any investment in a hotel is to attract customers, retain them and increase turnover. This raises the question of when it makes sense to downsize or even shut down in order to invest in a renovation. Here are the 3 main ones:
1. You feel the need for it
You don't need convincing. In your opinion, your hotel is becoming outdated. Its appearance is ageing, the exterior paint is faded, the carpeting is tired, the decor in the rooms has not been changed for far too long. You can see it's essential to give your hotel a new look.

From a business point of view, you feel that you are running out of steam, you are losing market share to the competition, your occupancy rate is constantly falling and your profitability is not looking great. The aim of any renovation is to modernise so as to regain market share, move upmarket, attract new customer segments, or even optimise space, all with the goal of increasing your turnover.

While renovating a hotel can be expensive, so can doing nothing. A hotel that has not done any refurbishment work for over 10 years will have to lower its yield in order to remain attractive compared to the competition. And the longer the renovation is put off, the more it will cost.

2. The customers say so
Making guests feel welcome is a top priority in your field. Are your customers posting mixed reviews on your distribution channels? Are there any recurring comments? Listen to them. They are telling you what they are looking for... and aren't finding.

Today's guests are no longer just looking for an accommodation solution, they want real living spaces that offer them a memorable and shareable experience. How do they share when they are pleased with their experience? We give it to you in a nutshell…. Instagram and Facebook are now customer satisfaction indicators. Do they talk about you, tag you as they talk about their exciting experience? If so, you are heading in the right direction. Your e-reputation is poor or even non-existent? This reflects (at best) a lack of interest.

We'll say it again, if you want to remain attractive, listen to your customers!
This is the best way to retain them and turn them into ambassadors. In fact, if you want to know everything new guests' expectations, we recommend you download our free white paper on 2022 trends in hospitality. Spoiler alert: all customer segments are now looking for process automation and simplified communication through digital tools, and on the other hand local roots - they are discovering a destination, and the accommodation is part of it.
3. You have to bring your establishment up to standard
Extensive standards were already in force for premises that are open to the public prior to Covid, but they have become more complex over the last two years; access for people with reduced mobility, fire safety standards, noise and odour pollution, hygiene...

There are many constraints to consider. Since this will require an investment of time and money, it must be planned in such a way that it will be worth it in the long run. You don't want to have to redo everything after 6 months because you have to move a partition or excavate down to the drains because of an oversight. It will therefore be essential to avail yourself of the services of construction professionals with expertise in the hotel industry, or at least in public-access premises.

When to renovate?
Here we are talking about timing, finding the right moment.
Obviously, avoid high season. Once you have decided to start your renovation, the most suitable time of the year is during the low season, limiting the impact on your revenue as much as possible. You can use your PMS to get a handle on your seasonality.

Allow for a potentially longer period than what the contractor responsible for the work quotes. You need to be able to cope with the unexpected. You don't want to miss out on the festival in your region by two weeks, or the trade show that allows you to sell your overnight stays at a premium.


You may also opt for a phased refurbishment: floor by floor, the north wing and then the south wing, etc. This may seem like a good option when the work is due to take a long time, as it allows for partial operation during the whole period. However, even if you plan to put in place all possible measures to minimise the inconvenience, inform your customers and adjust your prices, you also run the risk of receiving complaints. And as we know, bad comments put potential customers off, and good comments attract them. Bear in mind that 72% of travellers read reviews before making a decision to book a hotel (2018 TripAdvisor study).


Wherever possible, try to do all of your work at once, in a concentrated manner.

The checklist - what to renovate in your hotel?
1. The premises

Do you need a major renovation? There are structural elements in an establishment that make all the difference:
Have the structure of your building surveyed to make sure it does not contain any cracks
Good thermal insulation is a must for your customers' comfort


Sound insulation is equally important. Guests are keen to rest once they are in the hotel. They don't want to be disturbed by any noise and they want to be sure that their privacy is respected between the rooms.


Customers need to feel safe and this means that facilities and fire detection systems must be up to standard and maintained, with clear signage provided

In addition, new guests mostly expect a hotel to be environmentally conscious. What have you put in place in terms of energy management or waste treatment? Can you apply for an eco-label? Regional subsidies are available for carrying out renovation work with the aim of protecting the environment.

The exterior of the hotel is just as important as the interior. It's the first thing the customer sees before they come through the door.

How does your facade look? Is your hotel signage still functional and up to date? If you have a garden or a driveway out front, the landscaping has an impact on the guest experience.

Apart from functionality and comfort, there is your positioning to consider. Who are you targeting? What unique atmosphere do you want to create for your guests? You should have a very clear concept in mind.

If Millennials are your new target, what are they looking for? How can you make your lobby both connected and cosy?
If you have the potential thanks to your geographical location to target business travellers, workspaces will have to be created.
An experienced interior architect or decorator will recommend a functional spatial layout, an experiential design with a style, staging, or possibly a themed decor that will match your DNA and your target client.
He will also bear in mind, if you ask, the desired 'instagramability' of your hotel.

Finally, in terms of equipment, your hotel's connectivity is no longer an option but a MUST-HAVE! Wifi access must be free of charge, and available everywhere.

2. The lobby
Your hotel entrance sets the tone for the experience. Pay special attention to it. First impressions are important - this is where you welcome your guests and it is the starting point of the guest journey once they have come in. Many studies have been carried out and papers written on what a contemporary lobby and a lobby of the future should or should not be.

Nowadays, the lobby has become a dynamic and multi-purpose space: it is a reception, a lounge, a place for socialising, a coworking space. There is possibly a bar or a library. It is an airy and open space with a demarcation of spaces through staging: ceilings, walls, furniture, light, music, smells, decorative objects... The reception area looks less and less like a big, cold counter and creates a barrier between staff and customers.
A good idea is to set up an area with one or two tables and chairs, which encourages guests to sit down and ask for information from the reception staff, as they did at the Cretan Malia Park in Greece.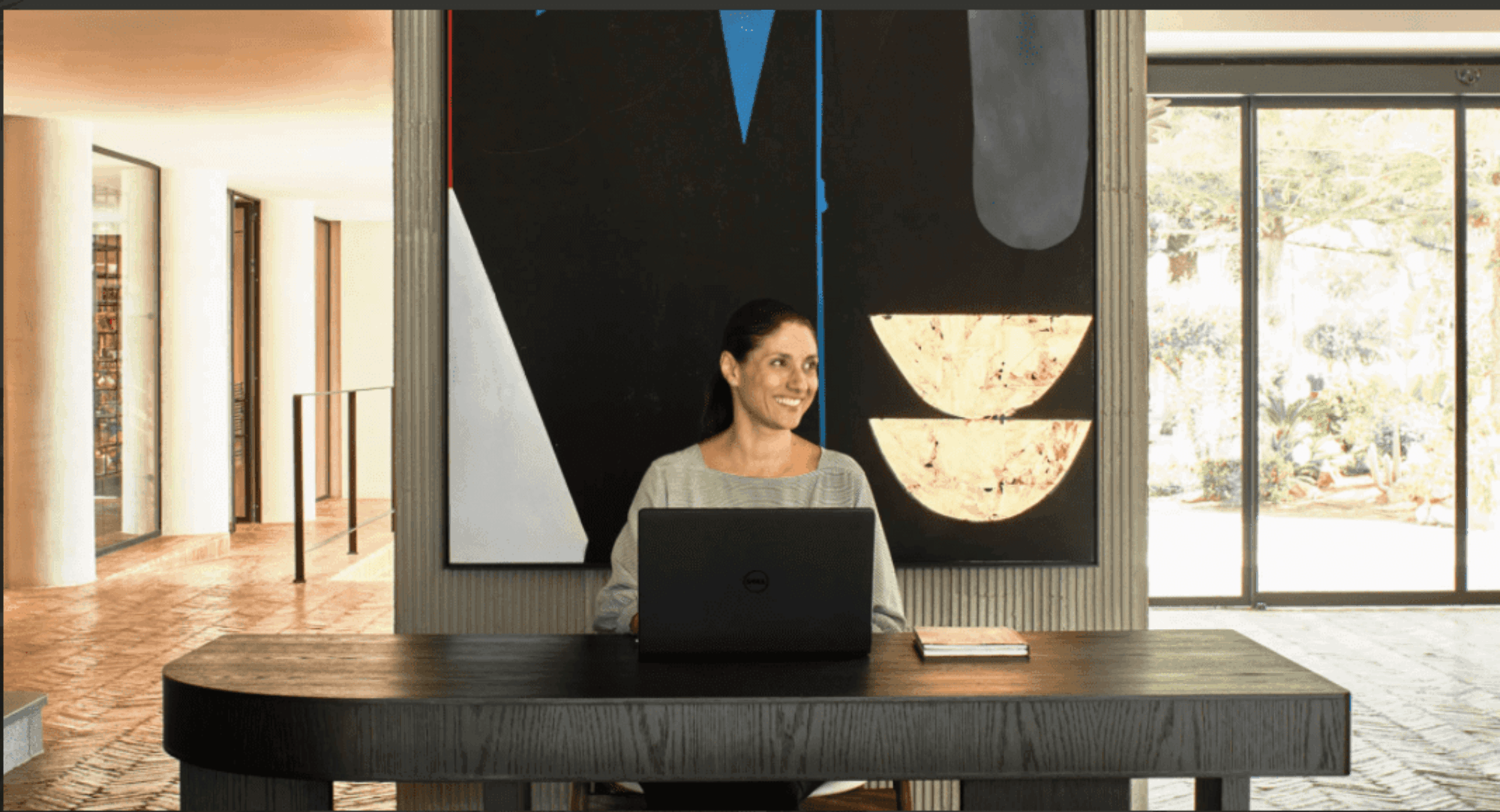 Administrative formalities such as check-in/out are carried out by guests themselves using tablets, electronic kiosks or via the hotel's mobile app such as the white label one provided by Bowo, saving everyone time and as part of a dematerialised process.
Studies show that if your lobby is designed like a living room, combining style, comfort and function, your customers will spend more time there, consume more and your profits will increase. You will also encourage people to want to stay longer.

The lobby is also a reflection of your brand identity.
If you have an ecological positioning, provide plants, choose eco-designed materials. If you are located in an exceptional natural environment, consider large or bay windows so your guests can enjoy a great view.
Want something grand, with a guaranteed wow factor? You're going to need a lot of space. And like the Four Seasons Hotel George V in Paris, decorate your hotel lobby with a majestic chandelier, original tapestries, sculptures and other collectible works of art as well as exceptional floral displays.

Or are you glamorous and want to win the most romantic hotel award? In the spirit of La chambre du Marais, choose shimmering materials and colours, subdued lighting, evocative paintings and a bar that provides spirits

3. The rooms

A hotel room should be comfortable, practical and inspiring.

Work on making it feel roomy. Go for open spaces, brightness and remember "Less is More". Don't clutter the space: a bed, bedside tables, a wardrobe and a desk are all the furniture you need. A designer hanging light fitting can accentuate a high ceiling.

Stand out. Step back from the conventional, but keep it simple. A themed room can be a good idea. Play with patterns, textures and materials and emphasise the choice of furniture and decoration: the headboard, the wardrobe, the desk, the lights, the wallpaper, the flooring... The more character and surprises the hotel room has, the more guests will talk about it, which will help increase your revenue.

Think 'comfort and well-being'. The quality of the bedding is crucial to customer satisfaction. Opt for bedding that fits with your positioning. The light above the bedside tables should be dimmed, and it should be possible to turn off the main light in the room using a switch that is accessible from the bed.

Carpets must always be repaired.

At a time when Smart hotels are in vogue, a bit of technology can only be a genuine plus for the guests' room experience, while being easy to install for the hotelier.
Thanks to a connected solution like Bowo's and a little room automation, the guest can now control in 2 clicks the brightness in the room, the opening and closing of the electric shutters, the temperature, the music selection and volume, or access their Video on Demand account on the TV screen.
They can also manage their reservation or purchase room or concierge services. Some hotels go so far as to install voice assistants in the room.

With a connected room, we are moving more and more towards hyper-personalization and you as a hotelier will be able to offer tailor-made services according to the predictions of the customers' needs.
4. Bathrooms
During a hotel refurbish, it is almost always necessary to completely renovate the bathrooms. These must be contemporary, functional, clean and of course in harmony with the style of the room. Natural materials to create Zen-like bathrooms are always a good idea.
5. Common or service areas: restaurant, spa, bar, swimming pool, etc.
Of course, first of all take care of the logic of how and where customers and employees will circulate. However, the different spaces in a hotel should not only be practical - they should also have character, and character that needs to be consistent with the hotel's decorative style.

Remember that bars, restaurants, spas and swimming pools are no longer exclusively for hotel guests. If they are attractive, they become potential meeting places for local residents or other customers outside the hotel and therefore represent a source of additional revenue.

These spaces can also be designed to include a share of technology: tablets for taking orders at the restaurant or choosing from the spa treatment menu, communications by internal messaging or pop-up with customers, an electronic payment solution in different parts of the hotel.
In addition, room automation will enable you to adjust heating and lighting among other things, in these areas and in real time, providing some real savings.

Renovation costs. Let's head for the checkout...
Some expenses are unavoidable, but to know where you are headed and to choose between what needs an in-depth renovation or just a lick of paint, you will need detailed specifications. These will also take into account the unavoidable constraints. Here are some ball-park figures to give you a rough idea.

In the Archidvisor hotel renovation guide, a selective platform for connecting with architects and building professionals, the following table provides cost estimates per m2:

Good News: since the hotel industry plays a role in the local tourist economy, there are aids and subsidies such as the loan for hotel renovation as well as regional or departmental aid.

Talk about your renovation
You have decided to proceed with your renovation. You will certainly be closed for a while for the benefit of your future customers. Let it be known!
When you reopen, prices will be higher, so highlight the benefits of the refurbishment.

'While you're at it', you can generate reservations for the reopening with special early-bird offers.

Communicate by email to your former customers, as well as on your website and social networks.

The sooner and better you communicate, the faster you will see your ROI.

Once the renovation is complete, post photos and by all means make a short film in the style of the one by the Relais du Louvre to present the new facilities, or something more conceptual, if that fits your positioning, like the Royal Hotel***** Savoy & Spa in Lausanne. Will your facilities be open to customers from outside the hotel? Invite the locals to a small event for the reopening.
Let's summarise the main takeaways from this article.
Your renovation will improve the guest experience and ultimately save you money.

Heavy renovations are made to last. The longer you wait, the more it will cost.
Interior refurbishment, with the aim of staying competitive, should be undertaken on average every 7 years.
Current trends that are becoming must-haves are:
An open, multifunctional lobby with character
A connected hotel to anticipate customer needs and improve their experience
An establishment with a low ecological footprint and a local presence.
📸 Here are some before/after examples in pictures