At a time when smartphones are becoming a must-have travelling companion, Bowo and FLEXIPASS are joining forces to offer a solution that focuses on convenience and efficiency.

Connected travel is more prevalent than ever. According to the most recent statistics, almost 2/3 of travellers use their smartphone at every stage of their journey, from booking to exploring. The hotel industry must therefore meet a new standard of fluidity and convenience, or risk compromising customer satisfaction. With this in mind, Bowo, creator of tailor-made web applications for hotels, is delighted to announce its partnership with FLEXIPASS, a pioneer in digital key solutions

Thanks to this collaboration, Bowo's partner hotels will be able to give their guests access to their rooms without a physical key, simply by using their smartphone. No more worries about lost keys or long check-in queues at reception. A simple gesture gives travellers access to their room, for a smooth, fast check-in experience.

"At Bowo, we are committed to pushing the boundaries of innovation to help our customers deliver an exceptional accommodation experience," said Jonathan Chenière, CEO of Bowo.
"The partnership with FLEXIPASS is a key step in that direction. Digital locks are the future of the hospitality industry, and we're delighted to be able to offer this technology to our customers."


Smartphones are the new personal assistants

Traditionally, hotel concierge services were based on face-to-face interactions. Today, the rise of mobile technologies such as guest apps, online check-in and digital keys is changing this dynamic, offering remote and contactless alternatives. Far from replacing the human touch, these digital solutions complete the offer, providing greater flexibility and responsiveness and enabling operational teams to concentrate on the hospitality essentials: customer service and personal attention.

With the Bowo Guest App, guests can access the hotel services 24/7, wherever they are, using their smartphone. They can check in, make restaurant or bar reservations, order room service, organise outings, read the press, chat with reception - all in a simple and immediate way.
This digital approach not only allows customers to save time and enjoy greater convenience, but also enables hotels to optimise their operations, assign their staff to higher value-added tasks and enhance the guest experience.

This strategic alliance with FLEXIPASS therefore enables Bowo to provide a new level of convenience, efficiency and security to hotels and their guests.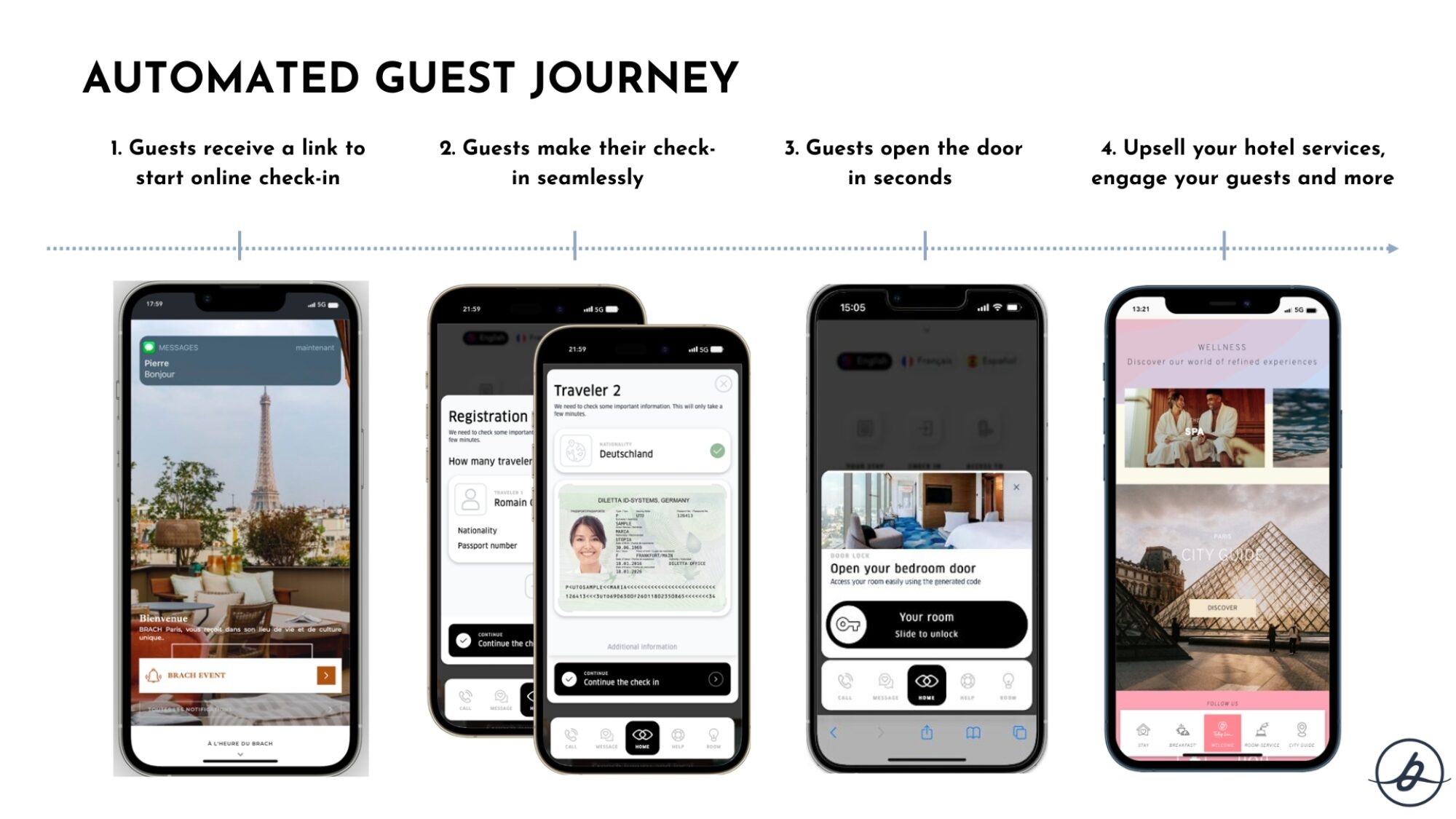 The Advantages of Bowo X FLEXIPASS Integration

The integration of the FLEXIPASS solution with our application provides several advantages, including :
Room access without downloading an app: guests can unlock their room door directly from the Bowo Guest App, which can be accessed without prior download. Two clicks, and the door is open.
Immediate improvement in customer satisfaction: keyless access leads to an average increase of 7% in customer satisfaction scores. Conversely, it is important to note that customer satisfaction scores drop by 50% when there is a 5-minute wait at check-in.
Seamless guest experience: this technology eliminates long queues at check-in and concerns regarding lost or forgotten keys. Check-in becomes a fast, smooth and stress-free experience.
Additional upselling opportunities: the digital key reinforces the use of the hotel's guest app, and therefore maximises additional revenue opportunities. The Bowo Guest App allows hotels to send personalised offers to their guests, such as room upgrades, room service promotions, restaurant and spa bookings, etc.
Cost reduction: the use of digital keys results in significant savings as hotels no longer need to constantly replace RFID cards – a saving of approximately $1,000 per month.
Stronger CSR commitment: by getting rid of physical keys, the hotel is helping to reduce the environmental impact of producing and disposing of plastic key cards.
Easy integration with most hospitaly tools: Bowo and FLEXIPASSFlexipass integration is compatible with most of the hospitality tools on the market (PMS, POS, housekeeping software, etc.). This enables more efficient and transparent management of hotel operations.
This partnership is now available for all Bowo customers equipped with BLE (Bluetooth) door locks from leading door lock providers such as ASSA ABLOY Global Solutions, Dormakaba, and SALTO Systems.