As the hospitality sector continues to face staff shortages and macroeconomic challenges such as inflation or energy costs, digital tools can be a real game-changer in increasing establishments' ability to generate revenue.
It is with this goal in mind that Bowo has partnered with Lightspeed, the leader in all-in-one point-of-sale software, to offer its hotel partners an integrated ordering service in the Guest App that responds to guests' new online habits, increases F&B sales, all while maintaining service quality.
Specifically, thanks to the Bowo X Lightspeed integration, hotel guests can order restaurant/bar menus directly from their smartphone on the Guest App's smooth and interactive interface, regardless of where they are in the hotel. Orders are instantly transmitted to the point-of-sale system and printed in the selected location, where kitchen or bar teams can prepare the order.
If it still needs to be introduced, Lightspeed is the reference point-of-sale software in the hotel-restaurant industry. From table plans to contactless ordering, inventory tracking, and integrated payments, Lightspeed offers a complete, intuitive, and reliable management system. This results in a safe and efficient service, better customer satisfaction, and diversified revenue.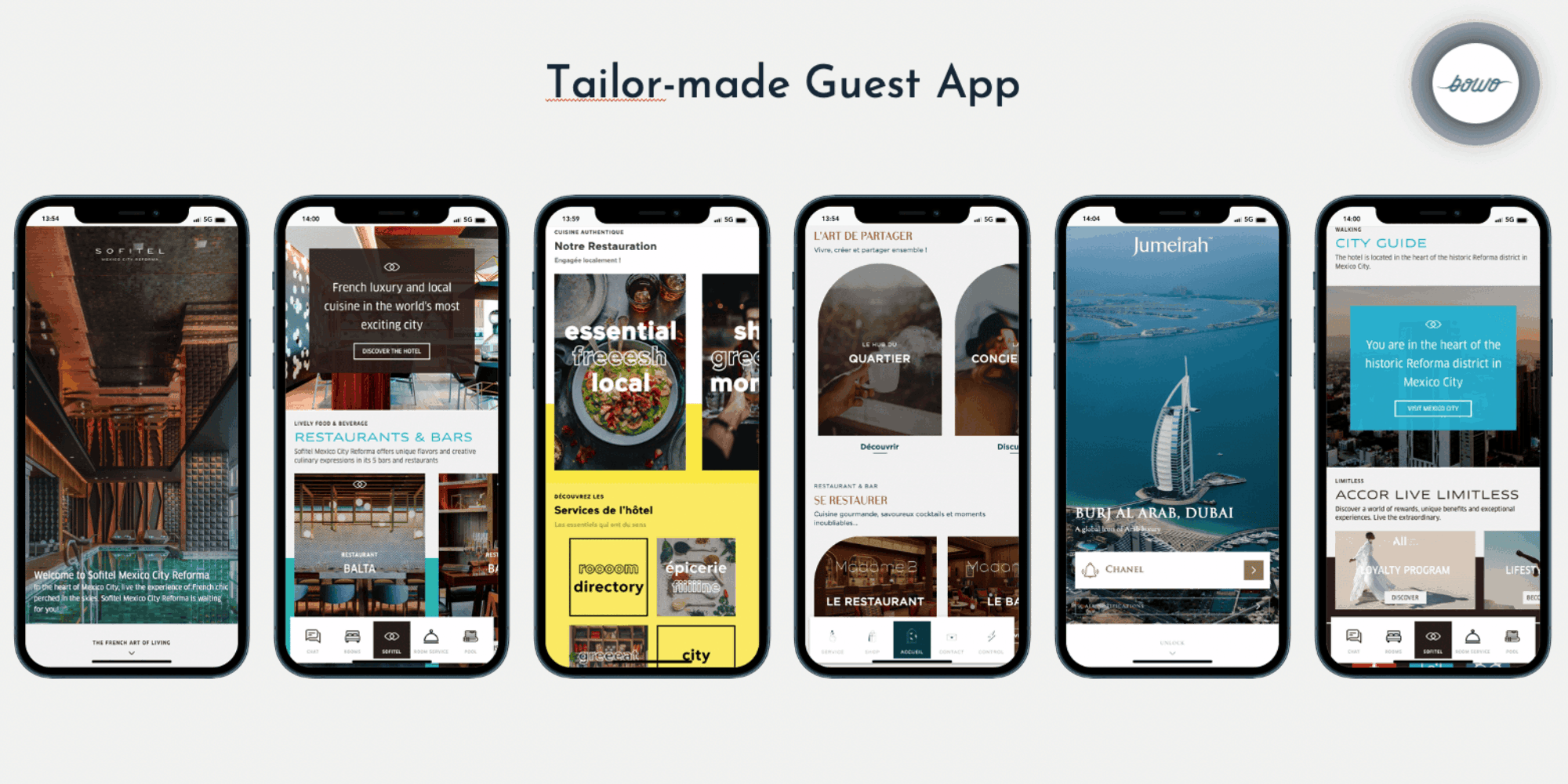 Our Guest App Bowo, on the other hand, is a custom web application developed for each hotel, which brings together all of the establishment's offers and services. It does not require downloading and provides hotel guests with access to a range of features, including check-in, digital room directory, room service, activity and SPA booking, instant messaging, incident reporting, personalized city guide, digital press, loyalty program, etc. On the hotelier's side, it also offers many additional communication and upsell tools. It was recently awarded the 3rd best guest app in the world.

While the feature of ordering from the Bowo guest app is not new, integration with the Lightspeed K-series point-of-sale software enables instant communication between the two tools and thus smoother processes for teams. Already more than twenty hotels benefit from this integration.

Main advantages of the Bowo X Lightspeed integration:

As the integration is bi-directional, it offers unique advantages to hotels that use both solutions.


Guest engagement from pre-stay
With Bowo and Lightspeed, guests have the opportunity to discover the hotel's restaurant offerings even before their arrival (thanks to a simple URL link included in the reservation confirmation). By showcasing an appealing menu with beautiful visuals, the hotel maximizes its capture rate.


Promotion of daily offers and upselling

Whether through push notifications or SMS, the hotel has additional tools to easily and quickly promote its daily menu and encourage ordering. Brunch, coffee breaks, happy hours, and evenings are all moments to promote upselling outside of regular meals.
Personalization of the customer experience
By integrating with the PMS, the possibilities for customization are endless. Depending on the reserved room type, stay dates, stay history, language, etc., the hotel can promote its offers by adapting them to each customer's needs.

With this integration, teams work more efficiently thanks to anticipation and preparation of the orders, resulting in reduced wait times.
Menu modifications with full autonomy

Images, descriptions, product prices, reservation times, payment methods, etc.: the hotel can make any desired changes from the Lightspeed back-office without having to contact customer service. This allows for quick adaptation to evolving circumstances and demands.

Finally, the connection between Bowo and Lightspeed is available at no integration cost for hotels.



Already using Lightspeed and want to learn more about Bowo? Request a demo.