A new reservation just arrived, and you're delighted. As a hotel director, operations manager, sales manager or marketing manager, you know that every booking counts.
Meantime, your freshly acquired customer is still buzzing with the excitement of their recent booking and will only be reassured that the process is complete when they receive their confirmation email.

Let's not beat about the bush: YES, you MUST send a booking confirmation email to all customers, whatever channel they booked through. Keep reading and you will soon be convinced.
We won't keep you hanging. Here's the main reason why you need to send a confirmation email for every booking, and why you need to take special care over it.

YOU ARE PRACTICALLY SURE YOUR GUEST IS GOING TO READ IT - it may be the only one they open, and they will be inclined to react if you send them information that is useful. In fact, according to Revinate's 2020 Hotel Marketing Benchmark, booking confirmation emails have an extremely high open rate and a significant click rate: we're talking about a 72% open rate and an average click rate of 25%; whereas in the industry, we're more used to seeing a 17.7% open rate with an 11.5% click rate.
This engagement with the confirmation email is borne out across all customer segments; even millennials read them, despite tending to be far more connected to social media than their inbox.

So this is an opportunity to get important messages across and engage your guests.

In most cases, it will be your first direct contact with your client! Irrespective of the channel they used to make their booking, this is your opportunity to demonstrate your interest in them and to engage them in the customer experience. Of course, you need to be clear, reassuring and to the point.
But first and foremost, you should be welcoming. This email is your chance to set the tone for their stay from the get-go.
You are a hotelier, that's a fact. But beyond the title and the position: you are a host, and they are your guests. They don't want to feel like just another booking reference. They want consideration, and it's the details that will create the experience.

In this article, you will find our 9 tips for creating a booking confirmation email that has an impact on your customers and encourage them to engage in their experience with your venue.


1. Get it right: the right time, the right subject, for the right person

When should the booking confirmation email be sent? Immediately after the reservation has been processed. This is what consumers expect since the advent of e-commerce. If they receive it immediately, the open rate is higher, and customers are more likely to click on your links. Emotionally, they're still in the booking process. If you delay sending it, the chances of them reading it, feeling concerned and giving credibility to your establishment will be greatly reduced.

Obviously the most efficient way to do this is to use an automated messaging system.

Apart from being virtually instantaneous, it also helps to avoid errors: the automated email will include all the traveller's specific information and the reservation details as provided during the purchase process. Many solutions are available to connect to your PMS.

What is the first thing your customer sees before deciding whether or not to open your email? The subject. It should be simple and meaningful. At the very least, it must contain the name of your hotel, the term 'booking confirmation' and, for ease of reference in future exchanges, the reservation number. This doesn't mean you can't personalise the subject of the email a little. Again, this is the first thing they will read, so the tone can be important. If you are a traditional hotel, a simple, conventional subject may be perfectly suitable.

-- NICENAME Hotel
Your booking confirmation no.123ERG563 at NICENAME Hotel
To: Laura Martin
Reply to: NICENAME Hotel


On the other hand, if you are a hotel for Millennials, for example, it might be better to use a more familiar tone.
-- TRENDY MILLENNIALS Hotel
You're all set! Your booking no.123ERG563 at Trendy Millennials hotel is confirmed!
To: Laura Martin
Reply to: Trendy Millennials Hotel

Likewise, think about the tone you use in the body of the email, as well as your wording. Personalise it in line with the image you want to present and the type of clientele you are writing to.

If possible, write in the guest's language. Of course, you probably won't be able to customise right down to the local dialect of your Chinese customer. However, they will appreciate you making the effort in Mandarin, even if there are some mistakes.
And how do you do that? If you manage your emails manually, you can translate your standard email using Google Translate, depending on the language. But avoid doing that in English at all costs. As tourism professionals, you should make sure that your English-language communication is in perfect English. Ask someone in your network to help you write it if necessary, or use the services of a professional translator.
If you have gone a little further down the road of digital processes, and you use an automated email distribution platform, these usually have an automatic translation function.

Also, customise your email to make your guest feel that it is addressed to them personally. First of all, we strongly recommend that you integrate variables such as _FIRSTNAME_, or even _GENDER_ _SURNAME_. Your email will appear like this: Hi Annie, or Hello Ms Lennox.

It's not so easy to set up, but segmenting your customers is even better. You will be able to send a differently worded email depending on whether it is someone who is travelling for business or leisure, alone, as a couple or with their family. According to the Revinate study, segmentation can improve overall email performance by up to 425%. This will show them that you understand who they are and what they are looking for.

The more relevant the content of your email, the more your guests will feel engaged in the experience.


2. The email design is as important as the content
You are speaking on behalf of your brand, so be recognisable. The design of your booking confirmation email should fit with your brand identity. It must contain your logo and your corporate colours at least. If you are used to using a certain typeface on your website or in a printed marketing document, use it here too.
Take care over the look & feel: go for beautiful images and keep text to a minimum.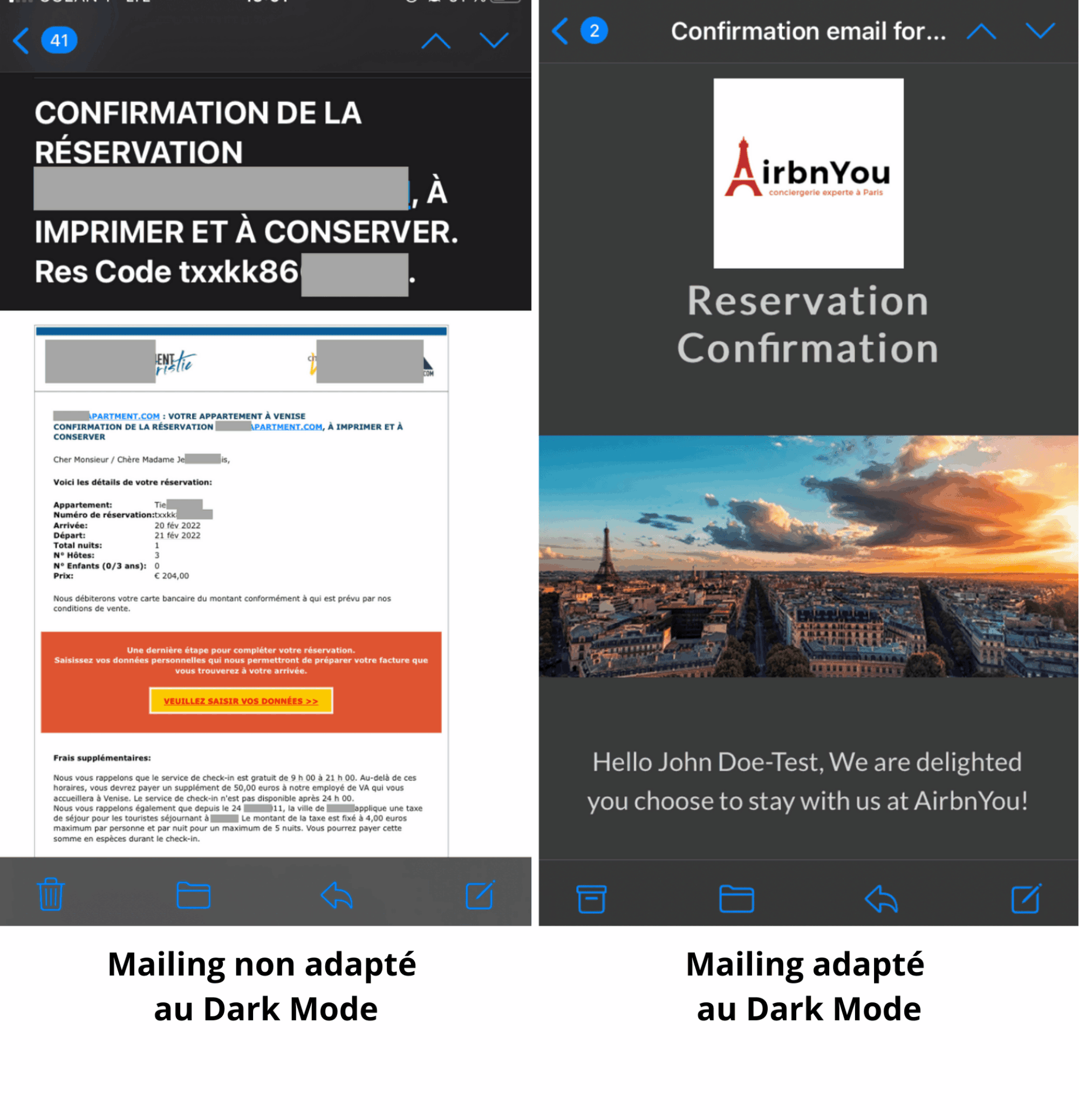 In 2021, we saw the emergence of Dark mode. This is an inverted screen display with a black background and white writing, which has the advantage of being restful for the eyes and consuming less energy. You can't decide whether the person will see your email in dark mode, but most mailboxes and mobiles today enable this type of display. So check that your design works in dark mode too.

Marketing trends also predict that there will be more and more animations in emails, but be careful not to overdo it.
Also, a Litmus study reveals that 91% of people who read emails expect interactive content. This might be a simple survey with 1 question and a choice of 3 checkboxes, for example, to better understand your customer's preference for checking in (advance check-in via the webapp/via a tablet on site/with reception staff?). By all means, put together an email template with the graphic designer who created your logo and ask if it can be integrated with your emailing management platform. Tell the designer what the sections will be and give them the text, even if it is likely to change over time.

An essential point concerning the design of your booking confirmation email, as well as any other email, is that it must be mobile-friendly, i.e., designed to be read on mobile phones. According to Emailmonday in the tourism sector, between 50 and 60% of travellers read their emails on mobile.
3. Your booking confirmation email must... confirm the booking!


State clearly that the reservation is confirmed and provide a comprehensive summary of what has been booked:

The reservation number
The first and last name of the person who made the reservation
The type of room
Arrival and departure dates
The cost of the stay
Payment conditions – for example, if you have received a deposit, state that and attach the deposit receipt to the email, indicating when the balance is due.
4. Communicate any helpful information for when they arrive
Here is a list of the information that must be included in your email:
- The hotel's location, with its full address. You can add a Google Maps link to it, or its location in relation to train stations and airports using a small visual aid by your graphic designer, as in the example of the "Le Cheval Blanc Paris Marne La Vallée hotel".

- Check-in/check-out times and procedures. Do you enable online advance check-in? If so, emphasise that: it is sought after because it saves time and is a sign of modernity. Provide the link now and indicate that you will send a new email a few days before your guests arrive for that purpose.
- The Covid health measures in place in your establishment. You can redirect them to a page on your site for more details.
- Is there a car park? How much does it cost? Provide that information.
- How can they get in touch with you? Be specific and use a warm approach.
"If you have any questions, our reception staff is standing by to help you via email @, by phone,...". Do you have a guest app with an instant messaging system? Add a CHAT WITH OUR RECEPTION STAFF button directly in the email. We recommend this to all our clients.
If you want to know more about the advantages of instant messaging in a webapp, check out our article on the subject.
- Be transparent about your cancellation policies. Add a link towards the conditions of sale and use page on your website.
5. An upsell opportunity.
You can use the email as an opportunity to suggest an upsell. However, be direct and to the point. People spend an average of 14 seconds reading a confirmation email according to Chamaileon, so don't go overboard. Suggest an upgrade to the next room category, or an additional night. So they can request or take advantage of the offer, display a simple call-to-action button linked to an offer that is available in your channel manager, or to the chat on your establishment's guest app if you use one.
6. Cross-sell
Now we're entering the domain of the beyond-room experience.

How to get to your hotel from the train station or airport? Provide a transfer service with a booking link. Take the opportunity to ask them what time they plan to arrive using a link to a questionnaire located within your guest app, or a Google Form. This will be useful for managing check-in flows and housekeeping.

Breakfast wasn't included? Suggest it.

What can they do when they get there? Give 2 or 3 suggestions so that your guest can prepare their stay and purchase additional services. Do you have a spa? a restaurant? With a photo, a tag line and a call-to-action button, make it possible for them to book immediately just by clicking. You can 'nudge' them with a preferential rate for advance bookings.
If you don't have any complementary services to offer in your hotel, you can promote partner offers on which you will earn commission. And if you don't have one yet, find out why it's important for a hotel to have a network of partners.
Again, don't overdo it. You will be able to send other emails with more details to prepare their stay, always ahead of their arrival.
7. Encourage them to keep in touch until they arrive, then during and after their stay
Ok, so you told them how to contact the reception staff if they had any queries. But how can you stay in regular 'contact' with your customers between the moment they actually book and their arrival? How do you get them buzzing and feeling your vibe between when they book and their check-in? Especially since that might be quite a while!

Post images of your daily life, your team, your clients, everyday experiences or special moments on your social networks... If appropriate, encourage people to follow you on your different socials in your confirmation email.

Do you have a lifestyle blog linked to your website, where you give advice on experiences around your establishment for example? Invite them to check it regularly and tell them that you share your news on your website and social networks.
Similarly, encourage them to subscribe to your newsletter, telling them in a few words what they will find there. Special offers on activities perhaps? Take advantage of the services at your spa?
Do you have a loyalty or VIP scheme? Tell them! Otherwise, how will they be able to sign up for it before they arrive?
Today, the simplest, most complete and most interactive way is to provide them with a discussion forum within a guest app in your hotel's corporate colours. Do you have one? This is THE time to make them want to try it out. You might even tempt them with a special deal! "To get your complimentary bottle of wine, try to find the password in our guest app".
Don't know what this is yet? It doesn't mean investing in a long and costly IT development. Platforms such as Bowo have been designed to be the best possible interface between hoteliers and customers, improving the customer experience considerably and also making hoteliers' work easier, since they can focus on what they like to do best: taking care of their guests. Your guest app will allow you to broadcast your news and offers, among other things, through the notifications feature. It will also enable you to communicate with your customers, in their own language thanks to multilingual management, using a highly personalised feed based on Artificial Intelligence, and a chat function. Here are our tips on how to choose your web application.


8. Test your emails

Warning! Nothing should be distributed automatically without having been previously tested and approved in all the possible versions.

Send yourself the standard email you created. Re-read it. Have it proofread by your colleagues. Are you sure there aren't any typos? Check that the images display correctly. Test each link. How does the email look on mobile phone? And in dark mode? Is the layout clear? Are the main points immediately obvious? Does it need to be slimmed down, or should the information be reorganised?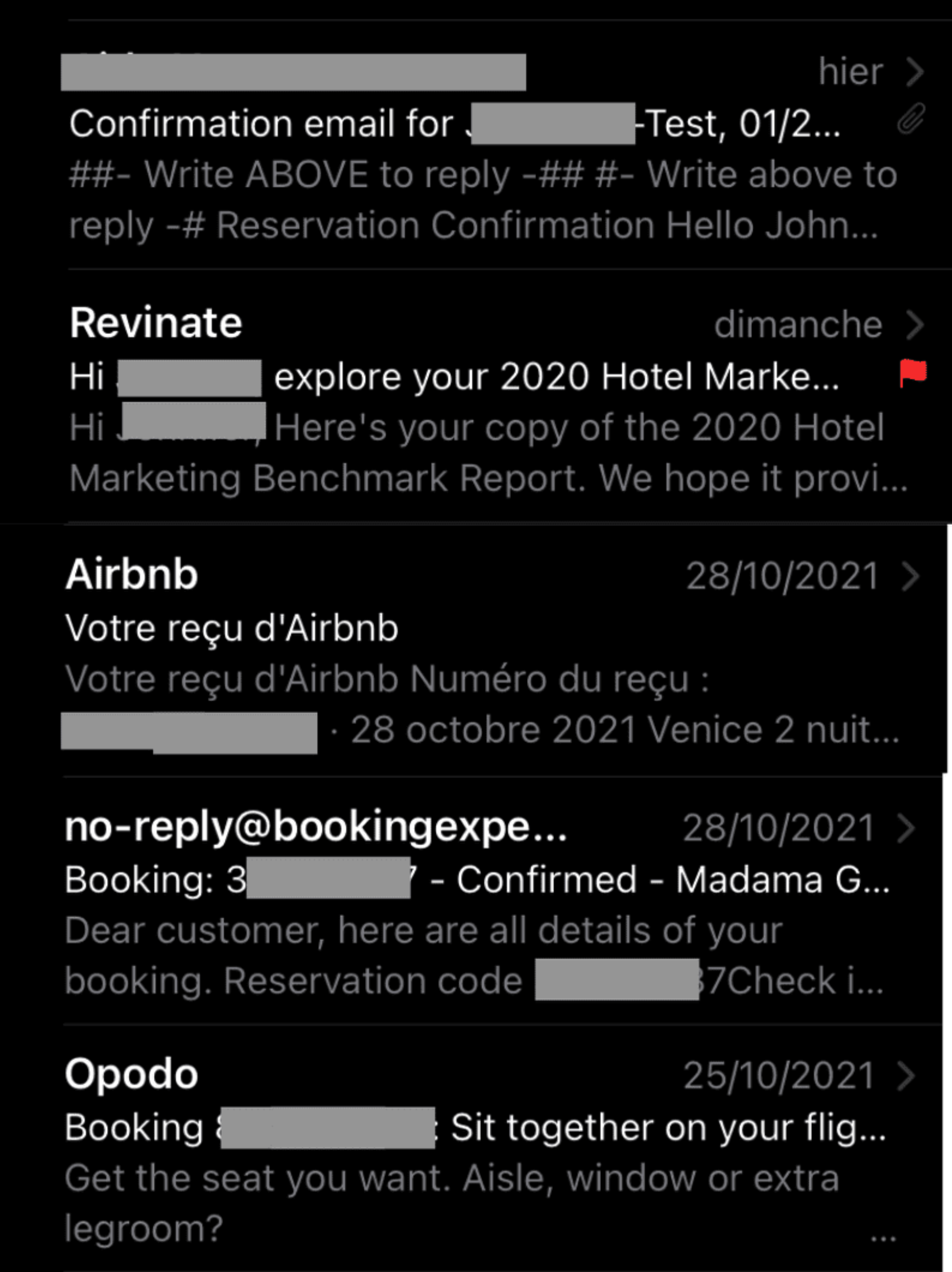 When setting up your email, pay attention to the preview text.You know, the little one-sentence text that is visible under the subject line, before the email is opened. Keep it short and to the point, but not too contextualised.
Here's some advice, following a mistake I made last week ;) Create one that is not related to current affairs, because it may well become obsolete quite quickly, and you may not remember to change it. For example, if you write…

Merry Christmas! Here is your booking confirmation

… and it's still saying that in February, what will that do for your image?!

9. Update them regularly
If you have followed our advice and decided to give out a little bit of information such as news or current special offers, then you should update your emails at least monthly.

In any case, you must check regularly that your emails contain information that is up-to-date. Have you changed your check-in system? Do you have a new partner for your shuttle service or an unusual find to visit nearby? It is essential that your booking confirmation email is always up-to-date.

Conclusion
As you can see, the confirmation email is essential. However, this simple email must of course be part of an emailing strategy, from your guests' booking confirmation to the satisfaction email after their stay. But above all, it highlights a key point: the customer experience begins well before check-in.

The pre-stay period was not very conducive to creating a customer experience before the digital age. But that age dawned quite a while ago, and yet this pre-stay period is still too often overlooked. This article has given you an overview of other possible ways to engage your guest before they arrive.
The customer experience starts here!