We understand how crucial communication and personalization are for every hotelier in the current era. That's why we've doubled down our efforts at Bowo in the last quarter to refine these two key aspects of your customer relationships.
Here, we list the new features and integrations of our product, available to all our clients. Whether you're looking to enhance your brand image, optimize your communication, or streamline your management, we have something new for you.
Improvements and Updates to the Bowo Platform
1. Strengthen your brand identity without dealing with code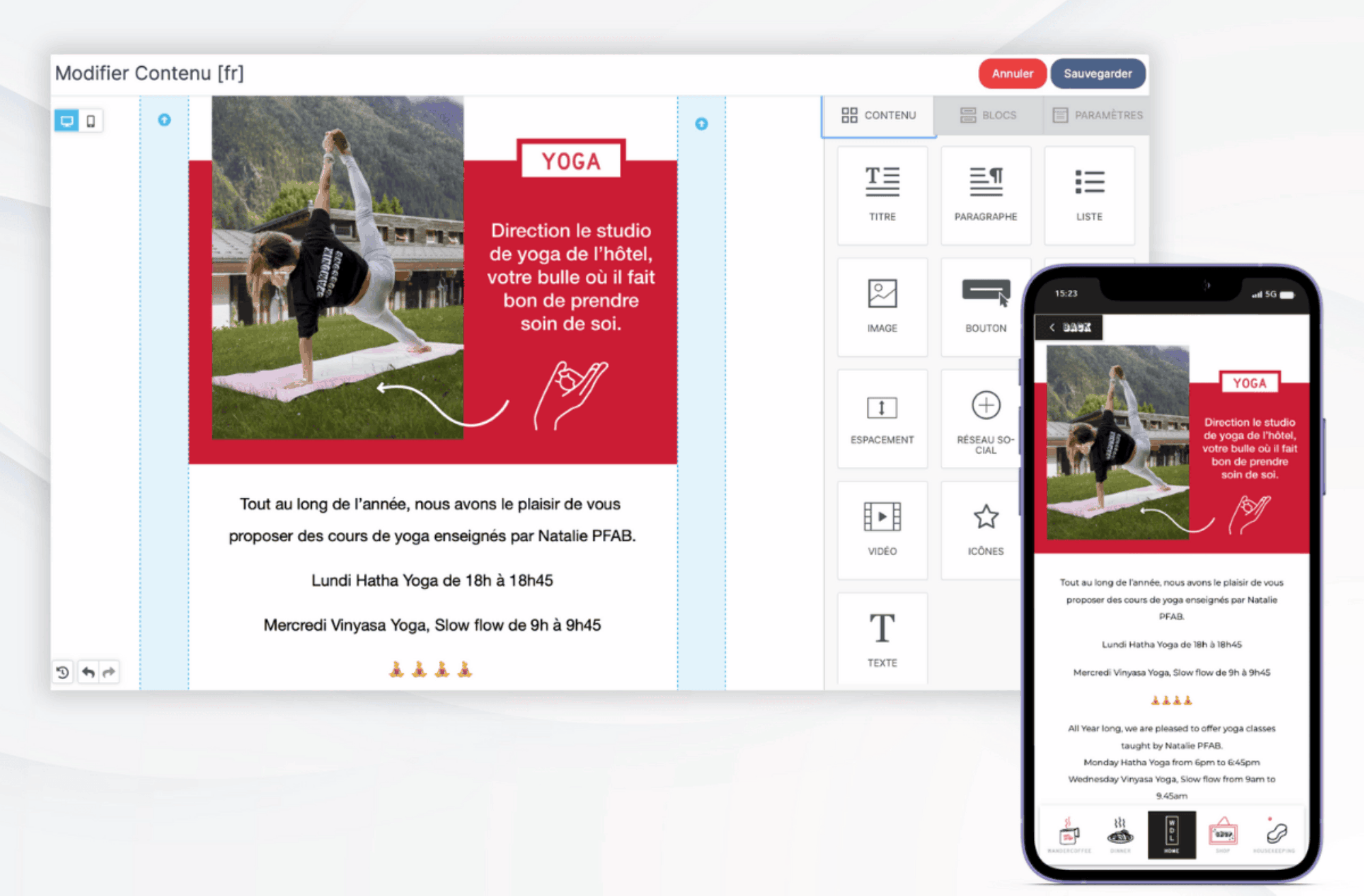 🖌️ New text editor
Allows you to create content pages and emails in a very intuitive manner. Built on the principle of WYSIWYG (What You See Is What You Get), what you see is truly what you get. Edit and customize the content without entering a single line of code.
🔤 Font Library
To facilitate your layout, we have introduced a font library. No need to scroll through all the options to find your brand's font. Now, set and select your favorite fonts to quickly edit the content of your Guest App's homepage.
This is another step toward optimal customization of your Guest App to match your brand's image.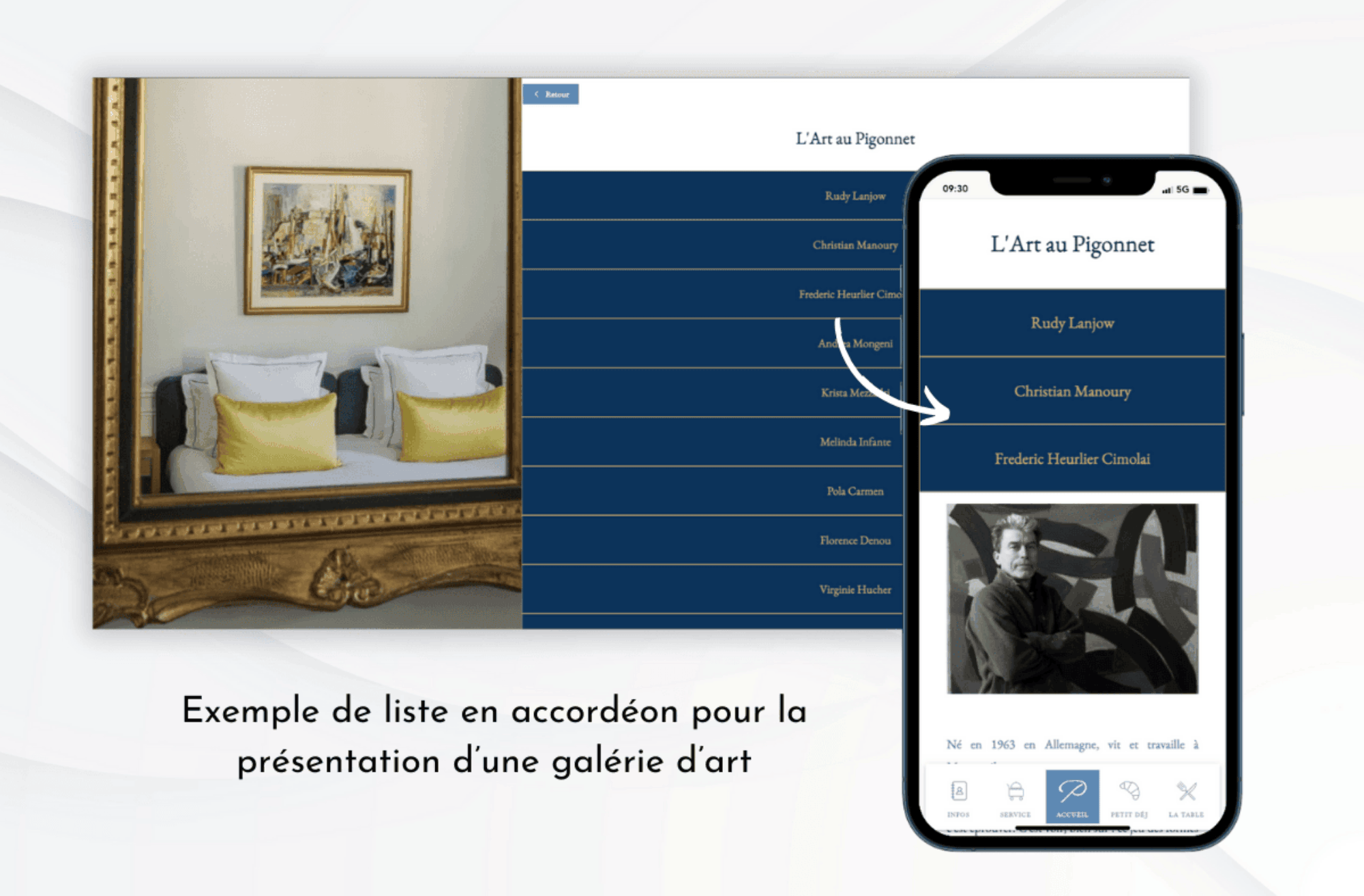 🪗 Accordion Lists
With these lists, your clients can directly access the desired service without having to scroll through the entire page.
2. Optimization of communication with your clients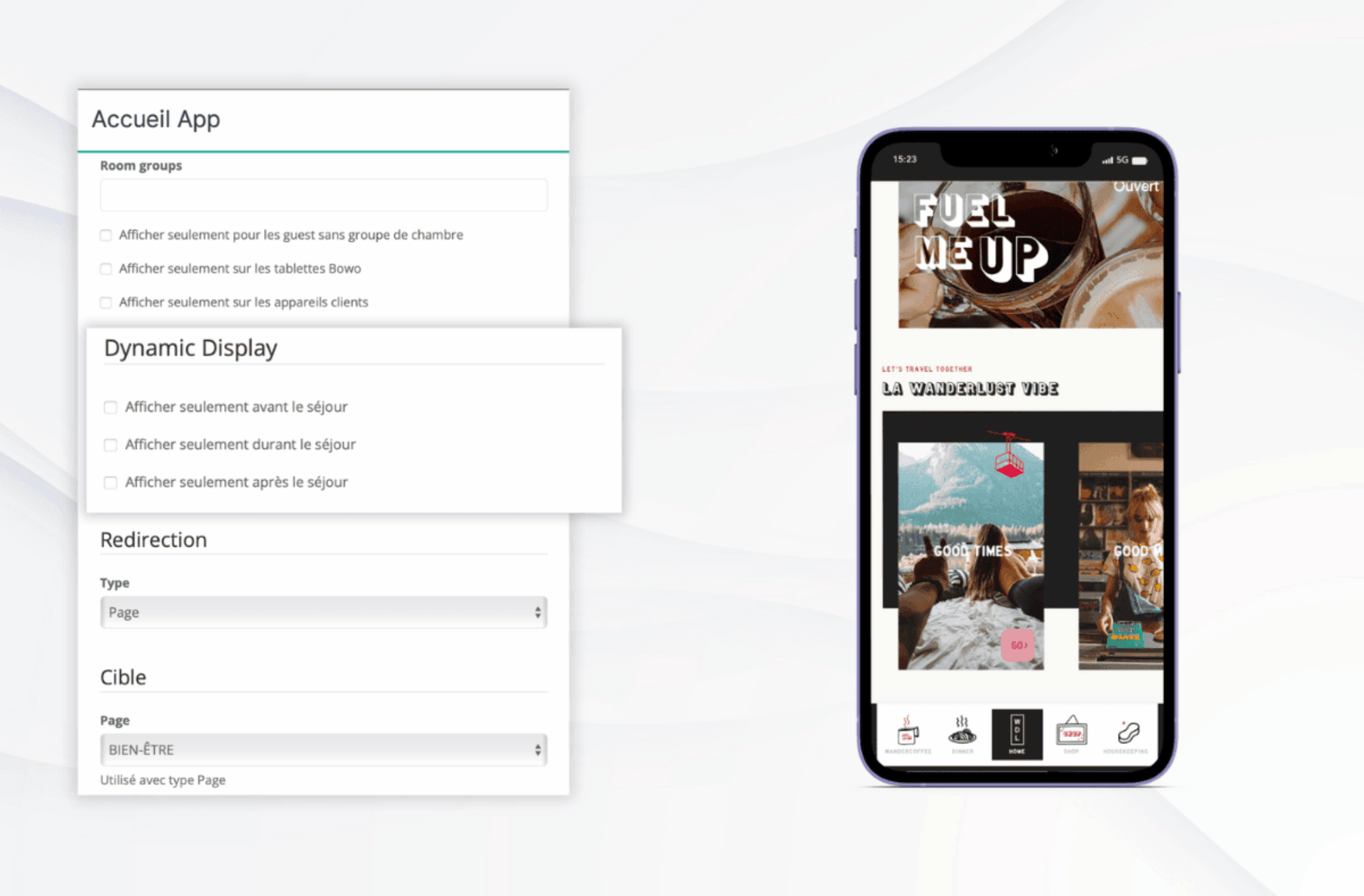 🕑 Displaying services based on the status of the stay
No need to overwhelm your clients with irrelevant information. Now, Bowo allows you to highlight your services based on your client's stay status (pre-stay, during stay, and post-stay), ensuring that each guest receives the relevant information exactly when they need it.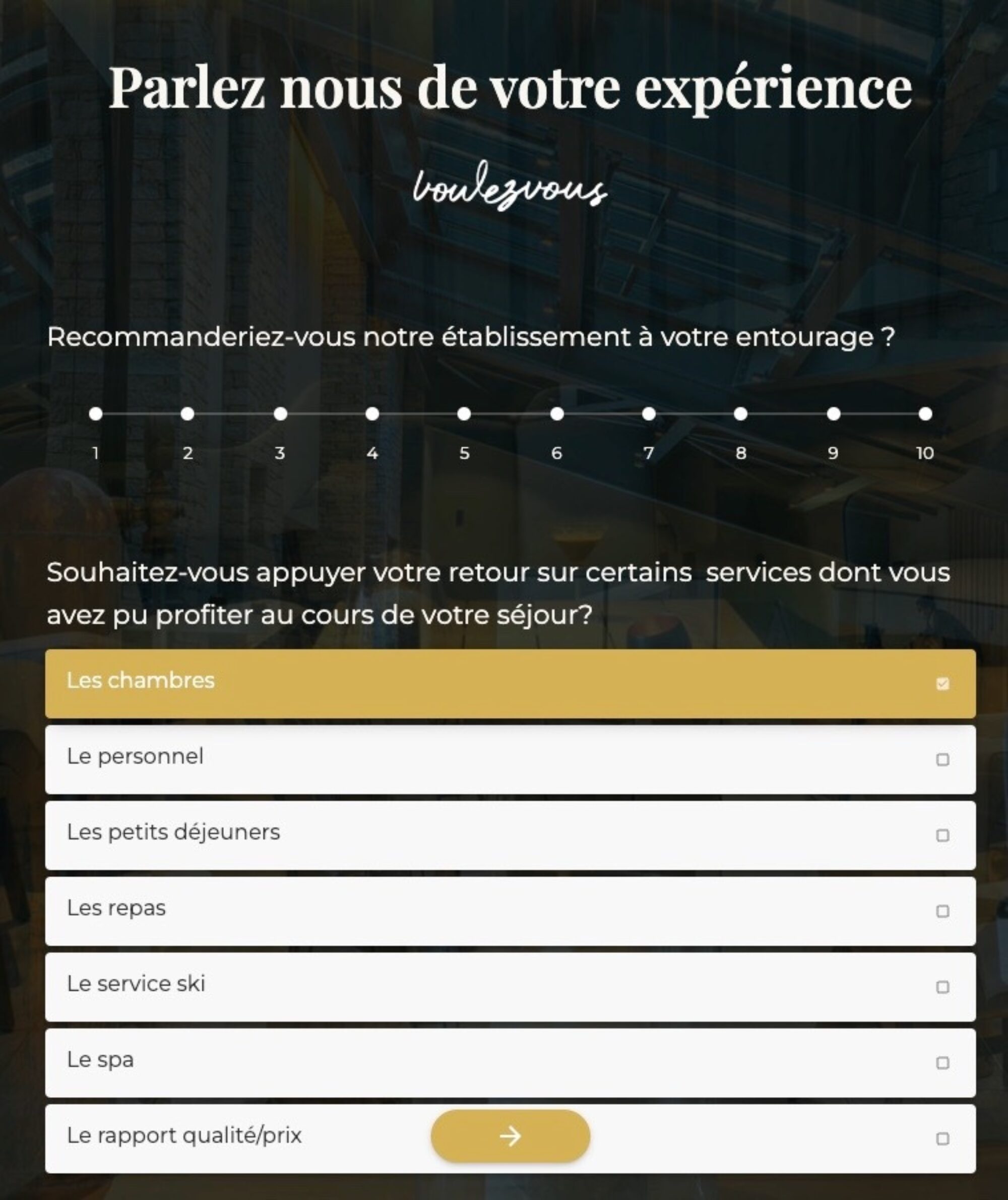 😀 Stay questionnaires
With the new questionnaires before, during, and after the stay, you can gather valuable feedback, personalize your offering in real-time, and ensure optimal satisfaction.
Our tip: don't wait until the end of the stay to send your satisfaction survey. Sending it during the stay will allow you to address any dissatisfaction and prevent a negative review on TripAdvisor and other online reputation platforms.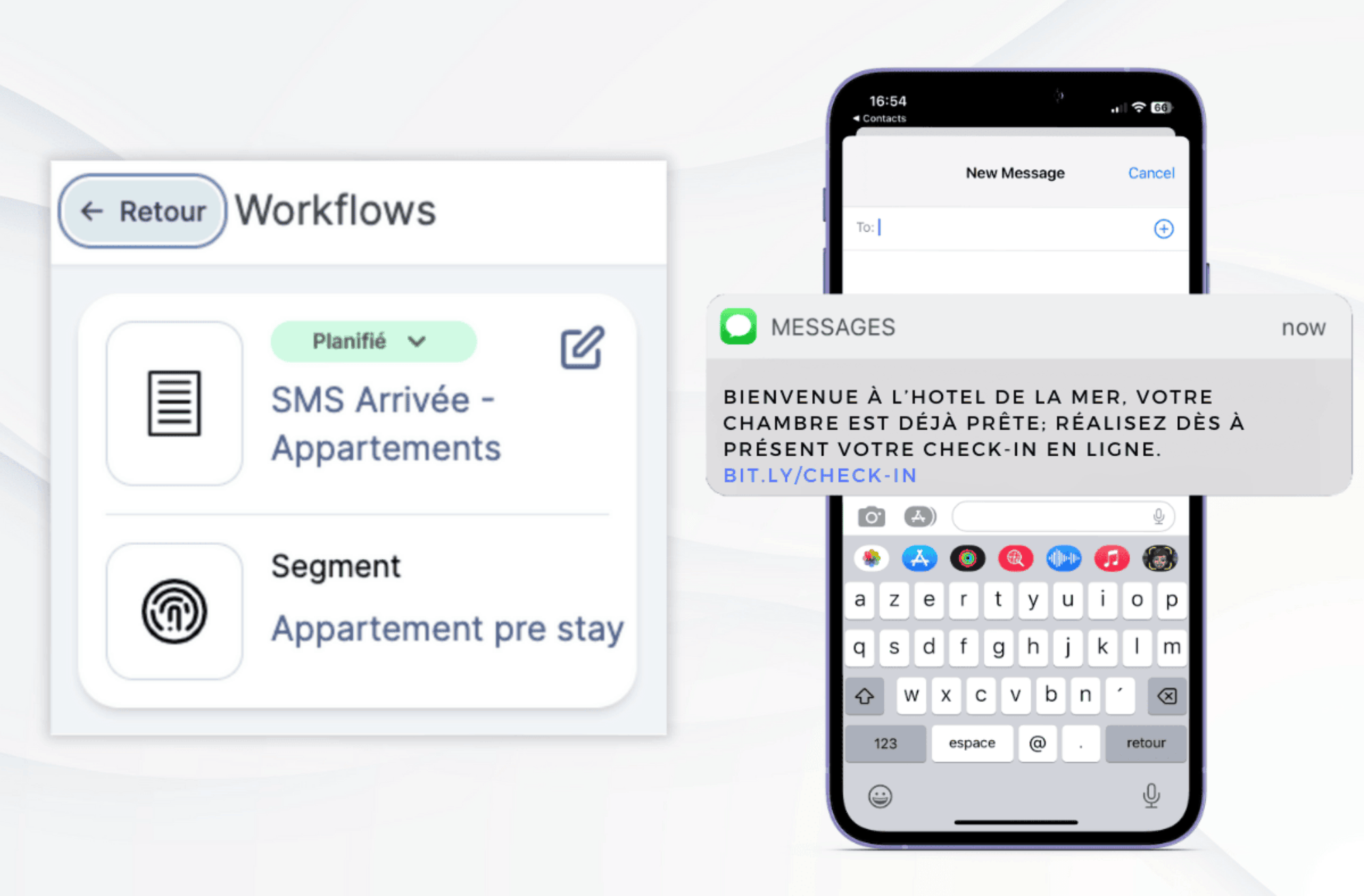 💬 Sending SMS for direct communication.
Automated SMS sending is now possible with Bowo! Inform your clients about a special offer, remind them of their restaurant reservation, or send a simple welcome message.
With an average open rate of 98%, you can be sure that your message will be read.
3. Improvement of your management
📞 Order notifications via calls
Never miss a single order made on the Bowo platform again. In addition to email notifications, Bowo introduces a new alert feature: a direct call to your preferred number.
Imagine, an automated system that steps in to inform you: "Hello, 3 orders are awaiting your approval on Bowo." Ensure optimal responsiveness while benefiting from an enhanced user experience.
⚙️ CRM Features Development
Enriched customer profiles for optimal management and an increasingly personalized customer experience.
- Add attachments directly to customer profiles.
- Also, find responses to administered questionnaires there.
- Lastly, a new search filter has been added: easily locate your clients using the reservation number and/or confirmation number.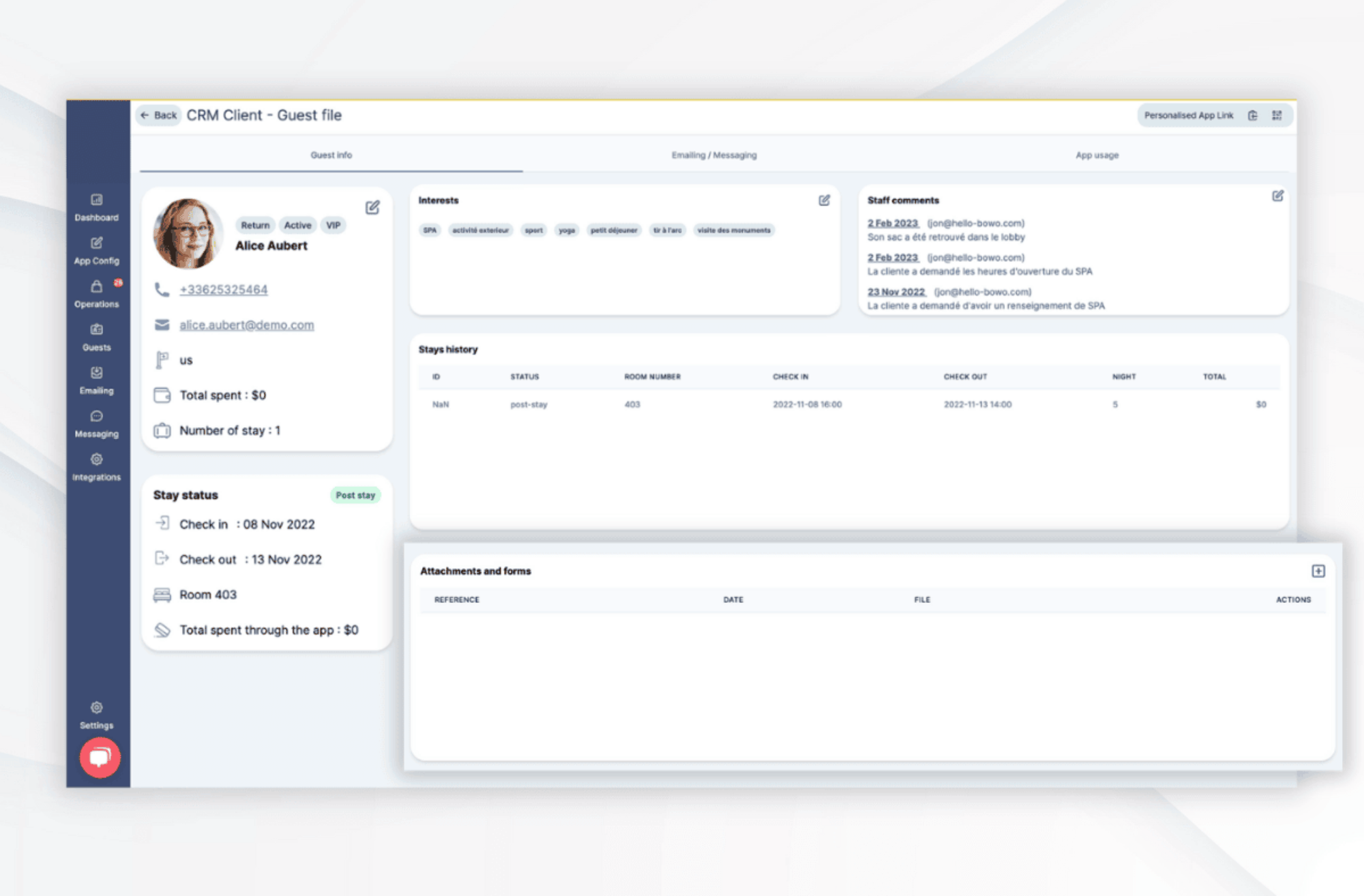 New integrations
📈 Easily boost your F&B revenue with the Bowo X Lightspeed combo.
We've collaborated on an integration with Lightspeed, a leading all-in-one point of sale software, to streamline the customer journey between the accommodation and restaurant parts of establishments.
Specifically for hoteliers, this integration means:
- Clients can view, order, and reserve a table directly from the Guest App, whether before their stay or on-site. All orders are instantly sent to the Lightspeed POS system and printed.
- Personalized offers and upselling opportunities to boost restaurant sales.
- Simplified management and control of the menu available on the Bowo Guest App from the Lightspeed back-office (descriptions, visuals, prices, payment methods).
🔑 Digital lock access with Flexipass, DormaKaba, AIS, SAG System, Hotek
You offer digital locks? Bowo now integrates with several automatic door opening solutions (via QR Code or through the PMS): Flexipass, DormaKaba, AIS, SAG System, Hotek.

The combination of Bowo with these digital lock solutions adds an extra feature to the already possible online check-in with our Guest App.
Upon their arrival, your clients can immediately go to their room. The door can then be opened in three ways:
- with a QR Code to be scanned on the door reader
- with a code to be entered
- or via a button in the application that triggers the opening.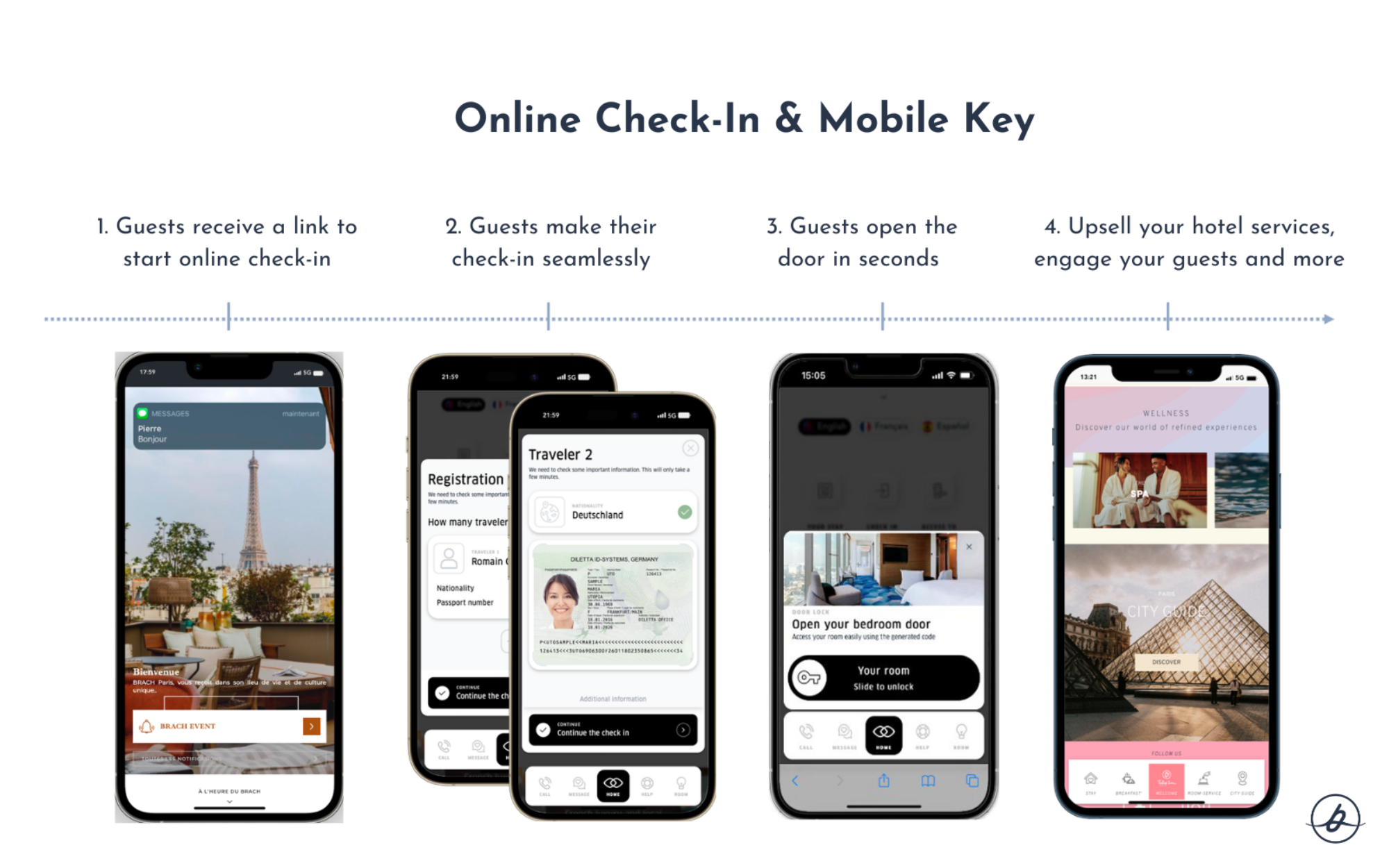 🛂 Integration of online check-in with Clock PMS+
We were talking about check-in?! Indeed, Bowo is now integrated with Clock PMS+'s online check-in and check-out module. A smoother process for clients and a time-saver for your staff.


💆 Boost your SPA services with the Bowo X Trybe integration.
Here's a new integration that enables
an even smoother and personalized spa service reservation experience
at your hotel, directly from the Bowo Guest App.
With Trybe's dynamic packages, clients can build and book their own customized spa day program.
With this Bowo X Trybe integration, hotel spas can spend less time navigating between software and more time enhancing their clients' experience.
✨ Even more customization options with Amadeus CRM and Experience Hotel.
Bowo is now integrated with two of the best CRMs dedicated to the hospitality industry: Amadeus and Experience Hotel.
These integrations provide hoteliers with an expanded range of tools to understand the needs and preferences of their clients, allowing them to offer tailor-made experiences.
From personalized stays to targeted communication, every interaction becomes an opportunity to leave a lasting impression on your guests.
⛑️ More efficient room incident management thanks to Bowo's integrations with Flexkeeping and ETIS.
2 leading housekeeping software!
These integrations enable a quick and effective response to any unforeseen incidents. Whether it's a cleaning request, a technical issue, or any other situation,
hotel teams are alerted in real-time by the guest through the Guest App
, allowing for an immediate response.
This ensures customer satisfaction is maintained, ultimately reinforcing your establishment's reputation.
🛴 Premium micro-mobility service with Guest Mobility.
In partnership with Guest Mobility, we have introduced a premium mobility service for your hotels. Provide electric scooters and bikes, allowing your customers to explore the surroundings with style and convenience.
Learn more about the Bowo X Guest Mobility partnership.
🚀 3 new PMS integrations: protel, Hotsoft, and Thaïs PMS.
We are proud to announce our certification with protel and Hotsoft (both PMS from Planet) and Thaïs PMS. Smooth integrations for centralized and efficient management.
With these integrations, hotels equipped with these PMS and the Bowo Guest App offer their clients a personalized experience tailored to their needs and communicate more effectively. Ultimately, for the hotelier, this
combination translates to increased productivity and upselling opportunities.

The cherry on top?
🔹 Bowo integrates with both Planet Cloud AND Planet On-Premise! So, if your hotel is equipped with On-Premise, there's no need to upgrade your license to benefit from our integration.
—
If you're ready to embrace more connectivity between your tools and want to activate an integration for your account, reach out to your dedicated Bowo project manager.
Don't have Bowo yet?